How to support a pregnant loved one right now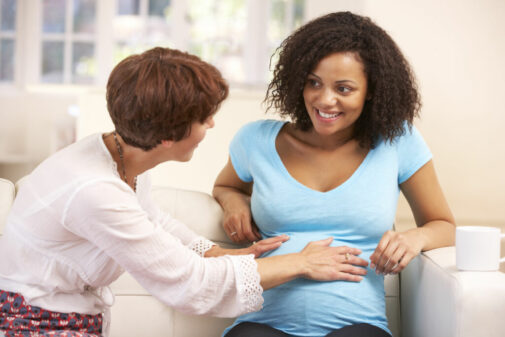 Navigating pregnancy and the postpartum period is a challenging feat under normal circumstances. COVID-19 has transformed it entirely.
With a woman's typical support system social distancing, and everything from baby showers to gender reveals going virtual, it's more important than ever to let your pregnant loved ones know you're there for them.
"Most new mothers-to-be are nervous about a lot of things, and now they're worried about COVID too," said Linda George, a certified childbirth educator at Advocate Sherman Hospital in Elgin, IL. "They need to know they are not alone in this COVID world."
Here are four simple ways to support a pregnant loved one from afar:
One simple way to support a friend or family member who's expecting or recently welcomed a new baby is to let them share what they're feeling. Acknowledge that being pregnant or caring for a newborn during the COVID-19 pandemic is difficult and their feelings of anxiety or fear are normal.
Help your friend find reliable information on some of the aspects of pregnancy or parenthood they have questions about. What are the hospital policies for giving birth during COVID? How do they install a car seat? How early should they start reading to their baby? "Support starts with knowledge," George said. "The more information pregnant women and couples can get, the less isolated and more in control they feel during their pregnancy and when they welcome their new baby."
Encourage your friend to take a class on topics like childbirth, breastfeeding or newborn care. Some hospitals also offer multiple part programs such as Empowered Pregnancy, which covers everything from budgeting, early literacy and fitness. You might even be able to take the class with them. "We encourage people to come with their partners or support person. It is important for that pregnant mom to have someone who says, 'let's sit down and figure this out together.' It's all part of that circle she's in," George said. "And now with classes online, people can flip on the computer and learn from professionals in the comfort of their home."
New parents are experiencing parenthood without the carousel of help or visitors dropping in to meet their new little one. That means less time to prepare meals, sneak in a shower or take a break. But there are still ways to help from a distance. Drop off a home-cooked meal without contact or buy a gift card to a food or grocery delivery service. Send newborn basics like diapers so they don't have to worry about running to the store.
Read more:
Related Posts
Comments
About the Author
Katie Dahlstrom, health enews contributor, is a public affairs coordinator with Advocate Aurora Health. A storyteller at her core, she is a former newspaper reporter and spent nearly five years working as a public relations professional for Chicago's commuter rail agency, Metra. Outside of work, she enjoys birding, photography and spending time with her husband and dog.