Doctor encourages women not to put their own health last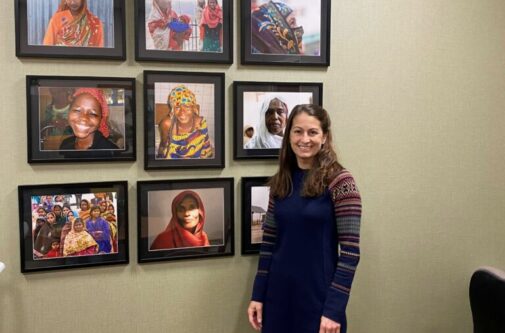 Some medical conditions can be hard to talk about. Many patients may suffer in silence or resolve themselves to living with an issue for years, assuming that nothing can be done or that the only treatments are too high risk.
This was the case with Jean Roehr of Random Lake, WI. The 68-year-old had suffered from a prolapsed uterus for more than three years. It came with frustrating symptoms that weren't always easy to talk about, like difficulty urinating. When she discussed it with her primary care doctor, she learned about Dr. Tracy Capes and the urogynecology team at Aurora West Allis Medical Center.
"It's a minor thing but it was very frustrating. Dr. Capes gave me all my options," said Roehr. "I was so surprised after everything I was going through for years. She put me at ease."
Dr. Capes finds that many of her patients have a similar experience. They may have dealt with uncomfortable issues that seriously impact their quality of life for years, but many of them put up with problems for a long time.
"A lot of women tend to put up with issues like a prolapsed uterus, weakening of the walls of the vagina or incontinence for so long," said Dr. Capes. "It can be a taboo subject. Patients put this stuff off because they put their family or work first. Sometimes they've been told there is nothing else to do, that it's a normal part of childbirth or a normal part of aging."
There are solutions to a prolapsed uterus. Patients can try pelvic floor therapy, nonsurgical treatments in the office or surgery. One common misconception is that surgical options will mean being in the hospital for a long time or extended recovery times, but the surgeries are minimally invasive, and patients go home the same day.
"These are quality of life issues that we can really change for people," said Dr. Capes. "Many of my patients are just so pleased there are options. I try to empower women to understand what is happening to their body and make informed choices about what they can do about it."
For Jean, talking to her doctor made a world of difference.
"Everything went so well. I had hardly any pain and it resolved my problem," said Roehr. "It was so uplifting to just be able to go to the bathroom. If there's a doctor out there that's going to make you feel good, it's Dr. Capes."
Now is the perfect time to make an appointment with a primary care physician. Whether you live in Illinois or Wisconsin, it's easy to find a doctor near you. 
Related Posts
Comments
About the Author
Ben Hoekstra is a public affairs coordinator with Advocate Aurora Health. He previously worked in marketing and PR for various Milwaukee nonprofits and received his master's degree in Corporate Communications from Marquette University. He enjoys the outdoors, cooking, and all things Milwaukee.