Do you need a wearable monitor for your baby?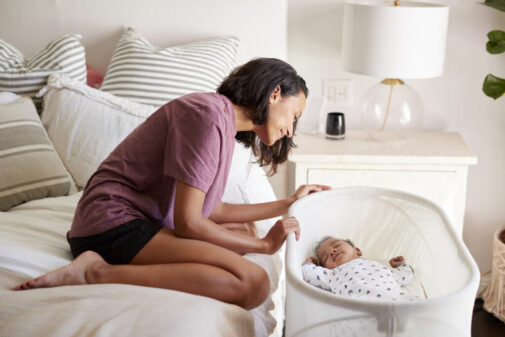 As a parent-to-be, one of the most exciting parts of preparing a home for a baby is creating a registry. From hair bows to strollers to cribs, the list of items can be long. Recently, wearable monitors have become a popular item on registries. These devices claim to monitor oxygen levels, heart rate, or sleep to detect potential health issues.
As a new parent, these devices may offer some peace of mind, but are they necessary?
"Many parents buy these monitors for peace of mind, but home cardiorespiratory monitoring has not been proven to prevent sudden unexpected deaths in infants (SIDS/SUID)," said Dr. Christina Swanson, a pediatrician at Advocate Children's Medical Group in Libertyville. "In addition, the accuracy of these monitors has not been verified by outside institutions and false alarms can lead to unnecessary Emergency Department visits and testing."
Dr. Swanson also notes that monitoring is not recommended in healthy infants.  It may be warranted in children who are high risk due to prematurity, technology dependence or severe cardiorespiratory disease. However, this need should be determined by the child's doctor.
In late 2021, Owlet announced it was no longer selling their Smart Sock after the FDA sent a letter saying the device needed to be classified as a medical device because of the heart rate and oxygen notifications.
If a parent uses a wearable monitor, Dr. Swanson says it should not be a replacement for safe sleeping practices that decrease the risk of sudden infant deaths such as:
Supine positioning
Use of a firm sleep surface/avoidance of soft bedding
Breastfeeding
Room sharing without bedsharing
Routine immunization
Consideration of a pacifier
Avoidance of overheating and exposure to tobacco smoke
If a device does alert, Dr. Swanson says parents should take time to observe their baby and call their doctor with any concerns before heading to the Emergency Department.
Now is the perfect time to make an appointment with a primary care physician. Whether you live in Illinois or Wisconsin, it's easy to find a doctor near you. 
Related Posts
Comments
About the Author
Brittany Lewis is a media relations coordinator at Advocate Aurora Health. She previously worked as a reporter at TV stations around the Midwest, including Milwaukee. She studied at DePaul University where she majored in Journalism and Public Relations. Brittany enjoys traveling, hanging out by Lake Michigan, trying new restaurants and spending time with friends and family.