'I wanted to make sure we took care of her outward appearance, too.'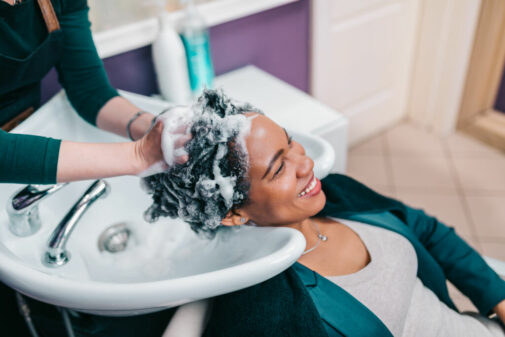 Sarah Haase's ICU patient had been in the hospital for weeks. The woman was very sick and her hair had not been washed for a while, so Haase wanted to help, but she didn't know how.
Haase is a white woman and a nurse who recently volunteered to come back to support the ICU at Aurora Medical Center in Grafton from her role in Integrated Care Management. Her patient was Black.
"She has different hair than I do," said Haase. "I didn't know how to help, but I wanted to make sure we took care of her outward appearance, too."
Haase turned to nurse manager Erica Berry whom she'd known for years. Berry, who is Black, was glad to help Haase wash the patient's hair and give her a dignified, caring experience.
"I told her how she could wash the patient's hair and then we talked through how to braid it," said Berry. "We joked with the patient about whose braids would be better."
Haase would come back to the patient's room when she had time and work on the patient's hair. It took a few different tries to get it right she wasn't always sure that her braiding was up to par.
"I know that she liked her hair when I showed her it in the mirror. Her sister even came in and said she was very thankful," said Haase.
For patients with long hospital stays, it can be hard to adjust back to normal life when they leave the hospital. They may not feel as strong as they did before and often still have to manage their health condition. For Haase, making sure they can keep their outward appearance is one more way the team can care for their patients.
"It's a small thing for a patient in the ICU, but it's about treating the whole person," said Berry. "Sarah showed courage by asking another Black person what to do. It renewed my spirits for how important it is to have representation and for our team members to understand that patients come from diverse backgrounds."
Haase was grateful for the help.
"I think anyone else in my department would have done the same thing. I've always worked with great people," said Haase. "I'd do it again."
Now is the perfect time to make an appointment with a primary care physician. Whether you live in Illinois or Wisconsin, it's easy to find a doctor near you. 
Related Posts
Comments
About the Author
Ben Hoekstra is a public affairs coordinator with Advocate Health Care and Aurora Health Care. He previously worked in marketing and PR for various Milwaukee nonprofits and received his master's degree in Corporate Communications from Marquette University. He enjoys the outdoors, cooking, and all things Milwaukee.