Women are 10 times more likely to have a broken heart, literally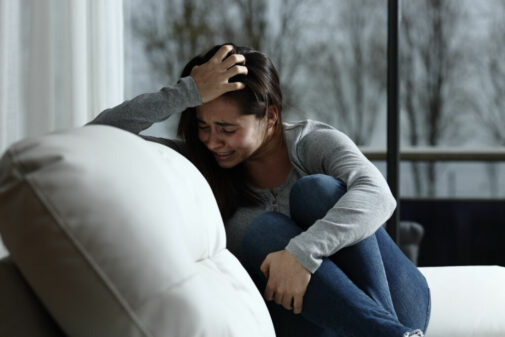 When romantic relationships end or loved ones are lost, we experience heartbreak. While you might assume that a broken heart only causes emotional or mental pain, the reality is that it can impact your heart health. In fact, new research suggests that more people are suffering from "broken heart syndrome" because of the pandemic.
Also known as stress-induced cardiomyopathy, "broken heart syndrome" is often caused by emotional stressors including grief, loss, conflict, or isolation. But, physical stressors like low blood sugar, high fever, difficulty breathing, or a stroke or seizure, can also cause it. The condition causes rapid and reversible heart muscle weakness and may occur minutes or hours after a stressful event. Symptoms often mimic a heart attack, with people reporting chest pain, shortness of breath, sweating or dizziness.
"It's bad news for women," explained Dr. Marianna Krive, a cardiologist at Advocate Condell Medical Center. "Women are more prone to this phenomenon [broken heart syndrome] because typically they're taking care of multiple generations of family members, are sleeping less, and don't pay as much attention to their own health."
The study also suggests that the risk is greater for middle-aged and older women who are being diagnosed with broken heart syndrome up to 10 times more often than younger women or men. While a rise in these diagnoses was occurring before the pandemic, the increased isolation, loneliness and anxiety caused by two years of pandemic-related illness, death and social restrictions has certainly contributed.
"Stress can lead to cardiovascular disease," continued Krive. "Your heart function can go down when you experience stress at work, at home or get bad news. You may not have blockages in your arteries, but high stress levels can lead to heart failure if left untreated for a long time."
To reduce your risk of a broken heart, Krive emphasizes the importance of managing stress, understanding your family history of heart disease and making sure that you are taking care of yourself.
"Start protecting your heart before you turn 25," she advises. "Stop smoking, maintain a healthy weight, exercise regularly, reduce your sodium intake, and be sure you're getting 8 hours of sleep a night. If you start at a young age, you can prevent hypertension, heart failure and many other medical issues. If you're over 25, the best time to start is now."
According to the CDC, regular exercise, healthy eating and better sleep are all associated with stress reduction, and Krive recommends that women focus on finding activities they can do, even in the midst of a busy schedule. Short, guided meditations, connecting with a friend instead of scrolling social media feeds, or a quick walk around the block can yield results.
For women with a family history of heart disease, Krive strongly recommends getting a heart scan to better understand their unique cardiovascular health and risk factors. This simple test can help manage and prevent heart disease, even if it can't mend your broken heart.
To better understand your risk for heart disease, click here to take a short quiz about your heart health.
Related Posts
Comments
About the Author
Kristen Johnson, health enews contributor, is a public affairs and marketing manager with Advocate Aurora Health. She previously worked as a speechwriter and staffer on Capitol Hill. She enjoys running marathons, good coffee and exploring Chicago's many neighborhoods.