How seniors can prepare to get the most out of their doctor's visit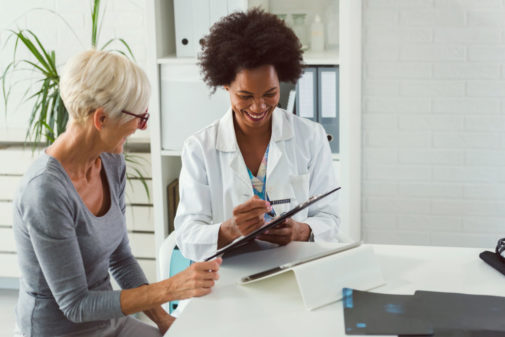 While some of us may have been able to enjoy relatively good health for most of our lives, the topic of health care takes on a weightier meaning as we enter our golden years. We're not as strong, fast or even independent as we used to be.
While primary care physicians are a great resource for us during these golden years, a specific type of clinical expert can be a mighty advocate for us in our senior years. Geriatric physicians specialize in the diagnosis and treatment of conditions that affect older adults, including dementia, heart disease, arthritis and more.
"Developing and maintaining a relationship with your physician is important at every age, and that's especially true for this patient population," says Dr. Bill Rhoades, chief medical officer and geriatrician at Advocate Good Samaritan Hospital. "As we all eventually age, our health care needs become much more acute and complex, and a geriatrician can help patients navigate this chapter of their lives."
If you are considering transitioning your care or have recently started seeing a geriatric physician, Dr. Rhoades offers three tips for how to get the most out of your visits with this type of physician.
Bring your "receipts." Rhoades likens a doctor's appointment to a visit with your accountant. When seeing your accountant, you want to bring your receipts, tax forms and other relevant documents. Patients should prepare in the same way for their appointments, especially with geriatricians. "Take a little bit of time to prepare your documents, including a list of your medications and other forms that will help paint a picture of your medical history," says Dr. Rhoades. "Knowledge is power. Arming yourself with the knowledge of your medical history ensures a more productive conversation with your doctor. The knowledge also ensures your safety."
Know your goals and questions ahead of time. Time goes by quickly when you're in a doctor's office. Make the most of your visit by clearly defining your goals and questions before your visit and making them known to your geriatrician at the start of your appointment. Being an active participant in your own care leads not only to more satisfactory visits but better health overall. "The doctor and patient should be partners in the patient's care," says Dr. Rhoades. "I love when patients come to the office prepared with questions because then the visit becomes more collaborative. Patients should feel empowered and informed in every aspect of their care, and it always starts with asking those questions."
Identify an advocate in your life. It's important to identify an advocate, caregiver or power of attorney early on in your golden years to ensure there is someone who can be your voice in times of need. This becomes even more critically important as elderly patients may experience cognitive or physical decline or maybe both. "The advocate should be aligned so that all three parties – the geriatrician, the patient and the advocate – are all on the same page with regard to the patient's needs," says Dr. Rhoades. "The advocate should feel welcome to join the visits, whether they are telephonic or in-person, to ensure that alignment."
No matter where you are or how you are feeling in your golden years, finding a geriatrician that you trust is foundational to every senior's care experience, Dr. Rhoades says.
"The foundation of trust, in addition to these tips, should help pave the road for a fruitful and positive health care experience for all seniors," he adds.
Virtual health is an increasing common and popular health care offering for patients. Particularly during the COVID-19 crisis, health care providers, including Advocate Aurora Health, have offered virtual visits as a way to minimize exposure to the virus. Do you have an upcoming virtual visit with your geriatrician?
"Some elderly patients may be preparing for their first virtual visit with their doctor. If this is the case, I highly recommend taking a little bit of time before the appointment to test the technology you are going to use, whether it is a telephonic three-way conference call that involves the patient's advocate or a video conferencing visit," Dr. Rhoades says.
Related Posts
Comments
About the Author
Jaimie Oh, health enews contributor, is regional manager of public affairs and marketing at Advocate Health Care. She earned her Bachelor's Degree in Journalism from the University of Missouri-Columbia and has nearly a decade of experience working in publishing, strategic communications and marketing. Outside of work, Jaimie trains for marathons with the goal of running 50 races before she turns 50 years old.