Breast surgeon advocates top care for all patients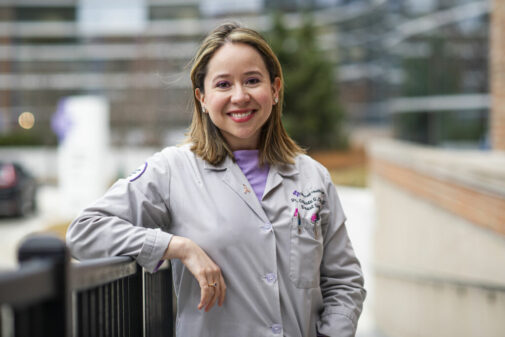 One in 8 women will get breast cancer at some point in their lives. These women will not only be left to navigate the diagnosis but everything that comes along with it, so it makes sense that anxiety is common for patients who have been diagnosed with cancer.
Dr. Celeste Cruz, a breast surgeon at Advocate Illinois Masonic Medical Center in Chicago's Lakeview neighborhood, treats an array of both benign and malignant breast disease and has been on the frontlines of patient care for nearly a decade.  She has made it her mission to allay patients' fears and help them through the challenging time.
"I chose breast surgery because I can have a unique immediate impact on someone's life," said Dr. Cruz. I enjoy establishing long term relationships with patients and connecting with them on many levels – not just their healthcare but personally."
Breast cancer is treated in a multidisciplinary fashion and early detection is key. She urges all women to be conscious of their breasts and to seek out a medical professional if they see any changes. "I would tell anyone battling with breast cancer that it is not a death sentence. We have many different forms of treatment to combat this disease," said Dr. Cruz.
Dr. Cruz is from Chicago, a city known and loved for its diverse culture, and says she has been very fortunate in her career to be able to serve her own community. She was key in examining the effects of language barriers on screening mammography and reporting on the findings, which were presented at the American College of Surgeons Clinical Congress 2020. After adjusting for income, insurance coverage and other variables, Spanish-speaking women with relatively limited proficiency stood out, she says.
Overall, women with limited English-language proficiency were 12% less likely to get screened. This is significant because there are approximately 67 million people in the United States who speak a language other than English. Forty-one million of those people speak Spanish, according to the study.
"As the U.S. is becoming an increasingly diverse country, there needs to be continued efforts looking into factors that may negatively affect equity in care across all disciplines and cultural backgrounds," said Dr. Cruz.
By spreading awareness of the importance of regular screenings as well as ensuring patients of all backgrounds are treated with respect and dignity, many lives can be saved, she says.
Related Posts
Comments
About the Author