How the Healthy Active Living Program changed Makai's life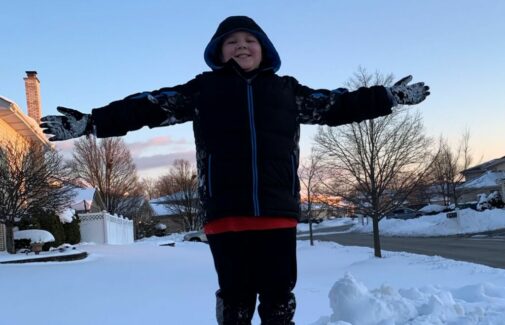 Two years ago, 11-year-old Makai's pediatrician Dr. Julie Malachinski noticed Makai was beginning to battle excess weight. She referred Makai and his family to the Healthy Active Living Program at Advocate Children's Hospital.
The program specializes in helping families adopt healthy eating habits and incorporate physical activity into their lifestyle. The Healthy Active Living team, which is composed of multidisciplinary specialists, works to develop personalized plans for families to live a healthier lifestyle.
"The goals we encourage with our families are lifestyle changes, not a 'diet," says Dr. Jeremy Daigle, medical director of the Healthy Active Living Program. "When these changes are achieved consistently, the patient and the entire family benefits."
Makai and his family were supported through diet changes, new ways to get active and tips for framing thoughts about weight and weight loss.
"We've had a great experience with the program," says Makai's mom Jean. "The team speaks to your child in terms they understand and ask questions to both the child and parent. They never made Makai feel like his weight was a problem or that being a part of the program was bad."
Jean says Healthy Active Living has positively impacted the entire family.
"All three of our kids are now much more willing to try new foods. Makai has tried more vegetables than ever before, and he's even found he likes spaghetti squash and sweet potatoes. What Dr. Daigle and the Healthy Active Living team does is wonderful. The entire family benefits if they rally behind the child and show support by participating."
"Makai and Jean came to the program very motivated to make changes and live a healthier lifestyle," says Dr. Daigle. "I've seen so much growth in Makai. He was always eager to learn and absorb new information. His family is the epitome of what our purpose is through the Healthy Active Living Program."
Makai and his family have recently started taking online cooking classes offered through the program, which is widening the family's nutrition horizons even more.
"I would tell anyone who gets referred to the program to give it a try," Jean says. "It's not only beneficial to kids. It can really make a difference for those struggling with weight and food."
To learn more about the Healthy Active Living Program, visit the webpage.
Related Posts
Comments
About the Author
Holly Brenza, health enews contributor, is the public affairs coordinator at Advocate Children's Hospital. She is a graduate of the University of Illinois at Chicago. In her free time, Holly enjoys reading, watching the White Sox and Blackhawks, playing with her dog, Bear and running her cats' Instagram account, @strangefurthings.