Find seasonal allergy relief with these tips from an expert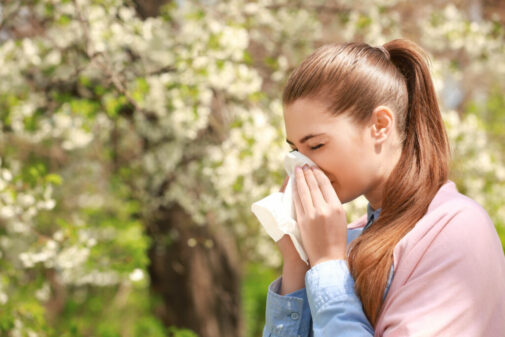 While birds chirping, leaves budding on trees and warmth are all signs spring is arriving, itchy eyes, runny nose and sore throat may also hint toward a new season.
The biggest trigger for spring allergies is pollen, which floats in the air and is produced by trees, grasses and weeds. The key to eliminating or reducing exposure to pollen is to keep outside air out or filtering it before it comes inside. When pollen gets into the nose of someone who's allergic, the body's defenses react negatively causing symptoms like red and watery eyes, sneezing, runny nose, itchy ears, congestion and post-nasal drip, a sensation of mucus dripping down the back of the throat.
Dr. Anita Gheller-Rigoni, an allergy and immunology physician at Aurora Medical Center- Oshkosh offers advice to help people suffering with seasonal allergies:
During peak allergy season, limit outdoor exposure, particularly on dry, windy days or in the early morning when pollen counts are highest.
Take a shower and change your clothes after outdoor activity to remove pollen.
Run air conditioning and keep your windows closed to limit levels of outdoor pollen in your home.
If you can't avoid the outdoors, try antihistamines to control your symptoms. If high pollen counts are forecasted, start taking medications before symptoms start. If antihistamines fail it may be a good idea to see your doctor. If you have asthma or often develop sinus infections, it can be especially important to talk to your doctor about managing your allergies.
"Allergy symptoms can make life miserable for those who suffer and really takes away from enjoying spring," Dr. Gheller-Rigoni says. "It's important to seek treatment to control symptoms."
Now is the perfect time to make an appointment with a primary care physician. Whether you live in Illinois or Wisconsin, it's easy to find a doctor near you. 
Related Posts
Comments
About the Author
Cearron Bagenda, health enews contributor, is a Public Affairs Coordinator with Advocate Aurora Health. She previously worked as a TV news reporter and fill-in anchor covering medical, political, feature and breaking news stories at CBS 58 in Milwaukee, WBAY-TV ABC in Green Bay and NBC Nebraska- Scottsbluff. Cearron enjoys spending time outside with her three dogs, biking, traveling and interior decorating.