What you can learn from Tiger Woods' recovery from a car crash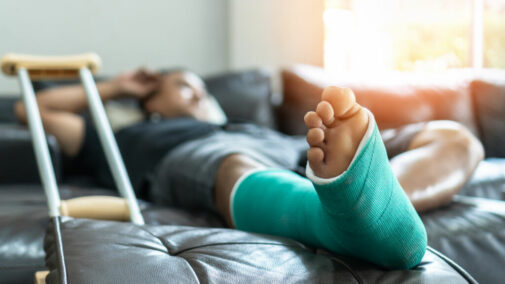 In February 2021, Tiger Woods was involved in a high speed car crash that nearly killed him and left the golf pro with multiple open fractures in his right leg. Immobilized for three months, and unable to swing a golf club, it was unclear if Woods would ever return to the green.
Fourteen months later, the world watched in amazement as Woods returned to play in the Masters Tournament.
"His recovery is awfully impressive," said Dr. Gregory Caronis, an orthopedic surgeon at Advocate Condell Medical Center. "These sorts of injuries are profoundly life altering. Most people do have some element of pain, stiffness or weakness that never goes away."
Dr. Caronis sees a lot of this kind of injury in his practice at Condell – Lake County's only Level 1 Trauma Center – especially following high speed motor vehicle accidents.
"We see it all the time," he said. "I have a lot of patients who are laborers who want to return to work or retirees who want to be able to travel without pain. When it's your leg, you just want to get back to your life, whatever it is."
To do that, Dr. Caronis says patients need to take the long view.
"Coming back from an injury like this is like eating an elephant. You have to do it bite by bite," Dr. Caronis says. After surviving the initial accident, setting small goals that progress as your recovery continues is critical, especially because recovery usually takes at least a year. After surgery, it's largely up to the patient to be motivated and disciplined enough to move what they can to preserve their mobility, strength and flexibility.
Joints stiffen quickly and muscles atrophy when they are immobilized.
"If you don't keep up the mobility of the ankle, foot and knee, then it's difficult or impossible to do later," Dr. Caronis says.
That's where Tiger Woods can teach us a lot. His innate drive and resilience surely helped propel his recovery.
"People have to put in sustained effort, and they have to be prepared to not see early success," he says. "It requires a lot of work over 12 months to see results. One of the best days in an orthopedic practice is seeing one of these recovered trauma patients able to walk into the office."
The good news: "You don't have to be Tiger Woods to get this kind of care," Dr. Caronis. "We help people with these sorts of injuries, whether it's the Masters or not."
Are you having back or neck problems? Take a free online quiz here to learn more. Or you can take this quiz about hip or knee pain.
Related Posts
Comments
About the Author
Kristen Johnson, health enews contributor, is a public affairs and marketing manager with Advocate Health Care and Aurora Health Care. She previously worked as a speechwriter and staffer on Capitol Hill. She enjoys running marathons, good coffee and exploring Chicago's many neighborhoods.