New 3D vision technology helps doctors 'see' spine during surgery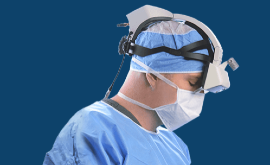 Doctors with Advocate Aurora Health are using new vision technology for spine surgeries that enables them to perform more precise, less invasive procedures.
The Augmedics xvision system produces 3D images of the spine to help surgeons pinpoint their actions and quickly zero in on where they need to operate. This new technology is referred to as an "augmented reality guidance system" and is similar to virtual reality.
The xvision technology enables minimally invasive, extremely accurate and precision surgeries. It is used for procedures to help patients with issues such as degenerative spine conditions, spine deformities, degenerative disc disease, scoliosis and spondylosis.
The system's highlight is wearable helmet-and-eyewear equipment that allows surgeons to see through a patient's skin to the spine to precisely navigate during surgery. Anatomical and instrument details are displayed on a 3D retinal projection in the helmet worn by the surgeon to keep the operative field free of obstruction.
"It's a game changer," said orthopedic surgeon Dr. Richard Lim. "You do not take your eyes off the patient."
Neurosurgeon Dr. Hamad Farhat, who has used the new system several times at Advocate Christ Medical Center in Oak Lawn, Ill., said xvision allows him to see through a patient's skin to the bone and spine, allowing him to pinpoint where he needs to work. Using the xvision, he said, means he can make a smaller incision and leads to a more precise, faster surgery.
The new technology also means surgeons do not have to look up to a separate screen during surgery. Before this system, surgeons had to look up from the patient to a screen, then back to the site of the surgery. This technology makes for a seamless, continual process during which the surgeon's eyes do not have to dart back and forth.
Dr. Lim said the technology is "revolutionary" and described it as wearing virtual reality glasses that project a 3D view of the patient's spine for the surgeon.
The xvision's features also help decrease the radiation exposure of traditional fluoroscopy-based procedures. Only a few hospitals in the Chicago area are offering the new technology.
"I'm really excited about this," Dr. Lim said. "It makes existing procedures safer and more precise and opens up a whole new avenue for minimally invasive procedures."
Related Posts
Comments
About the Author
Patrick M. O'Connell, health enews contributor, is a member of the public affairs team for Advocate Health Care and Aurora Health Care. He previously worked as a reporter at news outlets throughout the Midwest, most recently the Chicago Tribune. He enjoys playing and coaching baseball and basketball, hiking, reading, listening to podcasts, karaoke and spending time in nature with his family.