When a routine delivery takes a scary turn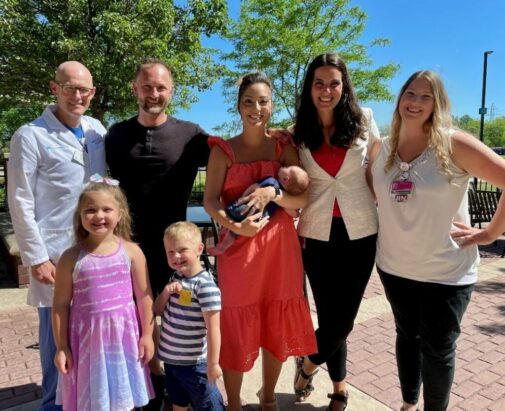 If it weren't for the special care at the Labor and Delivery Unit at Aurora Medical Center – Grafton, Angela Rosploch and her baby wouldn't be here to share their story.
What started as normal labor for the mother of two, quickly took an alarming turn.
Resident Nurse, Eden Gray, was the first to notice something wasn't right when the baby's heart rate started dropping. She brought Obstetrics & Gynecologist Dr. Sarah Casey into the room.
After being rushed into an emergency cesarean section, the team discovered Rosploch had a rare complication that threatened both her and her baby's life.
"Angela's uterus had kind of busted open inside of her. It's called a uterine rupture," says Dr. Casey. "It was one of the most severe instances I've seen."
A uterine rupture occurs during labor as pressure builds when the baby moves through the mother's birth canal. This pressure can cause the mother's uterus to tear with the contents spilling into the mother's abdomen resulting in major blood loss or hemorrhage. For the baby, there may be a fatal outcome if they do not receive proper oxygen.
To prepare for an extreme event such as this, the Aurora Grafton team conducts yearly simulation practices, allowing both Angela and her son to be here today.
"I don't think they would have made it with anybody else," says Steve Rosploch, husband and father.
After the successful delivery of healthy baby boy Hardin, he was transported to Aurora Sinai Medical Center where he spent time in the neonatal intensive care unit before heading home.
Dr. Casey notes that while uterine ruptures are rare, pregnancy complications can happen to anyone.
"Most of the time having a baby goes smoothly and everything is safe, but sometimes things take a fast turn and it can be dangerous. It's important to make sure you can get the medical care you need," says Dr. Casey.
Click to learn about how you can prepare for a safe pregnancy and a safe delivery.
Are you trying to find a doctor? Look here if you live in Illinois. Look here if you live in Wisconsin. 
Related Posts
Comments
About the Author
Junior at Marquette University studying public relations, corporate communications and business administration with a concentration in communication leadership