What happens at a sports physical?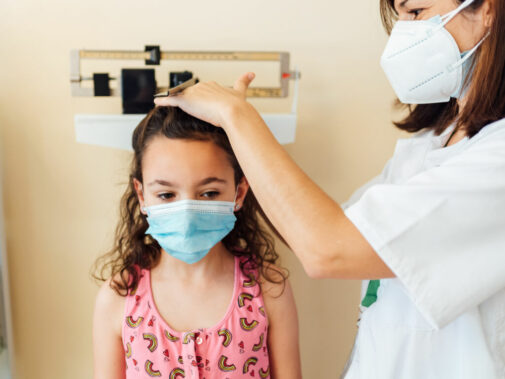 Sending your child back to school can feel like you have an endless to-do list. While backpack shopping and haircuts are important, scheduling your child for a physical should be prioritized.
Why Physicals Matter
Yearly physicals cover much more than vaccinations; they track developmental growth which supports the overall health of your child. Tracking immunizations, measurements, family medical history and medications create an opportunity to see development over time.
Dr. Sheena Sweeney, family medicine physician at Aurora Health Center Hartland, shares why physicals are necessary before returning to school.
"This process is particularly important for back-to-school to monitor your child's health prior to participating in any extracurricular activities. For student athletes, the detection of underlying health conditions in a physical can be lifesaving," says Dr. Sweeney.
What to Expect
Dr. Sweeney weighs in on what a parent and child can expect before entering their yearly physical appointment.
Measurement of pulse, blood pressure, height and weight to track progression.
Evaluation of the eyes, ears, nose and throat; skin and muscles; and the joints and spine.
Completion of paperwork to develop a medical record.
Immunizations may be necessary to ensure your child is up-to-date and meets the school requirements. The CDC has now approved COVID vaccinations for children under five; a physical is a great opportunity to discuss the vaccination process for your child with their doctor.
Depression screening will be conducted depending on your child's age. It's important to evaluate the mental well-being of your child and ensure they feel comfortable sharing their feelings.
"Delaying care can have big impacts on your child's health leading to missing concerns with growth, obesity, learning disabilities or mental health," Dr. Sweeney says.
How to Prepare
When going in for a physical, arrive with a plan. This is your time to ask questions and raise concerns from a developmental, physical, emotional and social standpoint. No question is too small, and this time can help create a full profile of your child's health. Take advantage of your time with your child's doctor to develop a plan for healthy living. In addition, parents should remember to bring any paperwork for school or activities that require a doctor's signature.
A physical should be conducted four to six weeks prior to the start of school. This creates flexibility if anything needs to be addressed before classes and activities begin.
Parents should contact their child's pediatrician if they have any concerns or to schedule a back-to-school physical, which can be done through the LiveWell app.
Are you trying to find a doctor? Look here if you live in Illinois. Look here if you live in Wisconsin. 
Related Posts
Comments
About the Author
Margaret Weiner is a senior at Marquette University studying public relations, corporate communications and business administration with a concentration in communication leadership