The dangerous condition on the rise among adolescents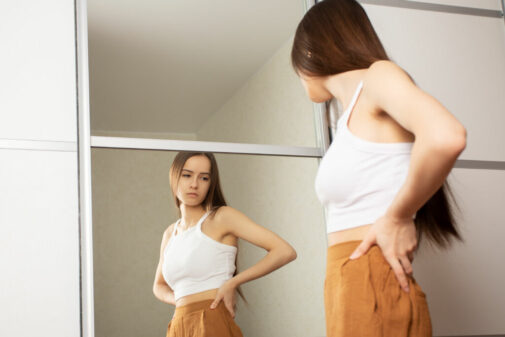 It is no surprise that children and adolescents faced extreme difficulties academically, socially and emotionally as a result of the COVID-19 pandemic. But what many people don't realize is that the pandemic took a toll on the physical health of this age group, as well.
I, like so many other pediatricians, have witnessed a trend of weight gain across our adolescent patient population. Sometimes that weight gain was followed by significant weight loss. Since early 2020, we have been seeing an increased incidence of disordered eating.
We know that the pandemic lead to a variety of circumstances that may have played a role in weight gain, weight loss and disordered eating, including:
Disrupted routines
Less opportunities for physical activity
Increased screen time
Increased stress
Less availability of nutritious food, particularly due to no in-person school, where some children receive their most nutritious food
For some adolescents, increased screen time meant more time spent on social media, where the pressures to fit a certain physical mold can be strong. But this isn't the only thing that influences a child's relationship with food.
The eating behaviors and lifestyle choices of parents and other family who may or may not be struggling with their own eating disorder or medical health problem can play a large role in a child's relationship with food. It's important that we all strive for a healthy, well-balanced life. However, it is possible to place too much importance on physical appearance, maintaining strict, restrictive diets and excessive exercising, which could send the wrong message to teens at risk of developing eating disorders.
Eating disorders typically do not resolve on their own. Adolescents who have developed eating disorders, whether or not as a result of the pandemic, will continue to lose weight unless they receive the appropriate treatment.
The gold standard for outpatient eating disorder management is Family-Based Treatment (FBT), also known as the Maudsley Method, which empowers parents to combat eating disorder behaviors by taking control of weight restoration. Parents and patients are taught that food is medicine and are instructed to choose, portion and plate three meals and three snacks per day for their child. It may sound simple, but feeding a patient with an eating disorder is a difficult and trying task. Adolescent medicine physicians and therapists can help families navigate the trials and tribulations of re-feeding. The sooner weight is restored, the better the prognosis for the patient and lower the likelihood that they will continue to struggle with eating disorder thoughts and behaviors in adulthood.
Monitor the eating behaviors of your teen. If you're concerned about intentional caloric restriction, weight loss, overly picky eating, excessive exercise, purging, binge-eating and/or severe anxiety related to eating, schedule an appointment with your child's physician promptly. If you are concerned your child has an eating disorder, their primary care physician can refer them to adolescent medicine, who can initiate FBT or escalate care if needed.
Dr. Huma Khan is an adolescent medicine physician with Advocate Children's Medical Group.
Are you trying to find a doctor? Look here if you live in Illinois. Look here if you live in Wisconsin. 
Related Posts
Comments
About the Author
Dr. Huma Khan is an adolescent medicine physician with Advocate Children's Medical Group.