'My biggest joy is when a patient wakes up and I get to call their name and have them open their eyes.'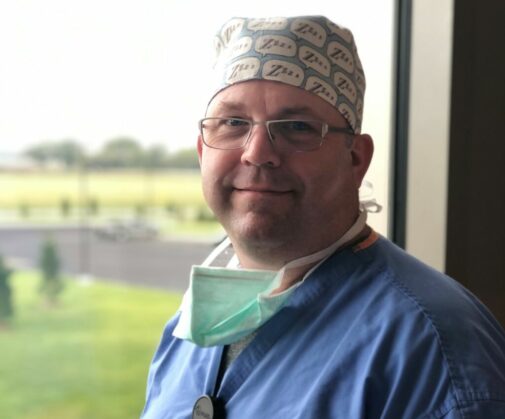 Sam Cannon, certified registered nurse anesthetist at Aurora Medical Center in Kenosha, always enjoys a good challenge. So when it came to him deciding what he wanted to do in the health care field, he landed on anesthesiology. Why? Well, where else are you able to use medicine to put people to sleep and wake them up? Or keep people awake and not let them feel anything during a medical procedure? It is a fascinating field and one that Cannon jumped into.
One thing that Cannon noticed early on is that almost every patient is nervous about anesthesiology. Most patients come in having heard stories about those that have woken up in the middle of a procedure or think that anesthesia won't work on them personally. To put patients at ease, he likes to explain in layman's terms what the procedure entails, using examples that they can relate to. For example, for cardio-thoracic patients, Cannon will use the analogy of the heart as a pump and how it sometimes has high and low pressure. It also helps that he has a unique background that helps calm nerves.
"I come from a military background, so I've been in situations where you need to be calm and work through challenges," says Cannon. "I do my best to explain things to patients and dispel any rumors that might be worrying them."
Cannon also enjoys working on challenging cases, since it keeps him sharp and allows him to understand the physiology of a patient. This is especially true for sick individuals since anesthesiology can affect them in different ways. One example is blood pressure. As a CRNA, Cannon needs to monitor and adjust different medicines based on what a patient can stand. If blood pressure gets too high, a patient can have a stroke, if it goes too low, it can lead to organs shutting down and patients going into shock. It is a delicate balance.
Ultimately, Cannon has learned that anesthesiology is a lot like being a pilot. The scariest part is the take-off (putting a patient under) and landing (waking), then there is the flight time in the middle (monitoring). The dynamic is challenging, but he wouldn't have it any other way.
"I enjoy knowing that I can make a difference in a patient's life," concludes Cannon. "I know it's not a great part of their day having to come in for a procedure, so I try to make their day a little better. My biggest joy is when a patient wakes up and I get to call their name and have them open their eyes."
Explore open Advanced Practice Clinician positions at Advocate Aurora Health.
Related Posts
Comments
About the Author
Colin graduated from Marquette University with a degree in communications and has more than 10 years of experience in small marketing firms to Fortune 500 companies. Colin is married to his wonderful wife, Brooke, and they have two children. Outside of work, Colin enjoys golf, going to the gym, watching movies (he is a Star Wars nerd), tinkering with his home theater and spending time with family and friends.