'Waking up every day knowing I will help someone is humbling'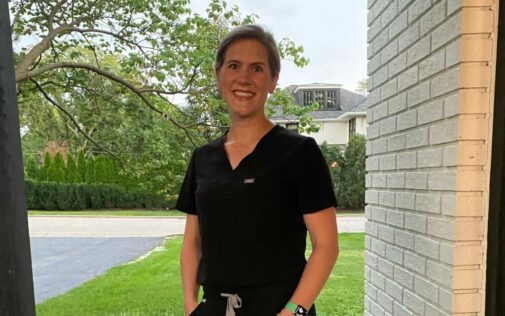 An elementary school teacher during the day and a student at night. That was what Bridget LeClair took on when she decided to make a career change to health care. Now an emergency medicine physician assistant at Advocate Trinity Hospital for the last seven years, LeClair is confident she made the right decision. Trinity is the perfect environment for her as she was looking to work for a small community hospital that has a family feel to it.
"I love that no two days are the same in emergency medicine. I have the privilege to see patients on their worst day and I get to give them answers and alleviate their pain by putting a treatment plan in place. Each day is unpredictable and that keeps me on my toes," says LeClair.
Initiated by the emergency department at Advocate Aurora Health, LeClair's team helped to implement the pediatric sepsis screening program to reduce wait times for pediatric patients in the emergency department. This program has Advanced Practice Clinicians (APC) lay eyes on all pediatric patients that walk through the doors so they can identify those that are critically sick. They then work with the nurses to determine if the patient needs to be seen immediately.
"Kids are tricky," says LeClair. "They can only compensate for so long before they crash. This program helps us identify those that are really sick and get them to a room quickly. It has reduced wait time for those critically sick children down to 4-5 minutes."
Having just started her new role as Advocate Aurora Health's lead emergency medicine APC in Illinois, she is excited to see how APCs can continue to grow in the healthcare space. LeClair is passionate about addressing the medical needs on the south side of Chicago by helping address the medical needs while understanding the social determinates of health that impact her community's population.
LeClair is optimistic about her future as an APC, "I am so proud to practice at Chicago's second oldest hospital. Getting to work autonomously and with a team of physicians is the best of both worlds. Every day I wake up looking forward to serving the patients of our community to the best of my ability."
Explore open Advanced Practice Clinician positions at Advocate Aurora Health.
Related Posts
Comments
About the Author
Amy Werdin, health enews contributor, is a provider public affairs coordinator with Advocate Aurora Health. She has been with the organization for 19 years, starting out in marketing for Advanced Healthcare, then Aurora Health Care and now in her current role. She enjoys reading, movies and watching her two daughters dance and her son swim.