Can cuisine combat cancer? Dementia? Death?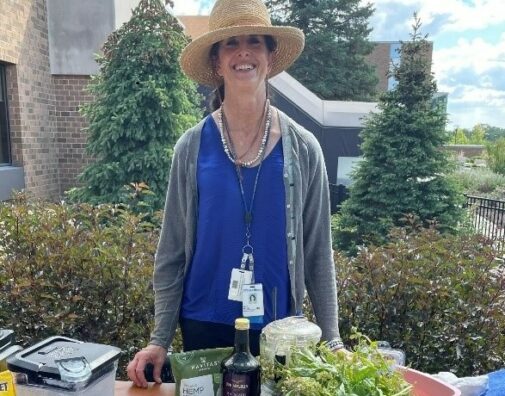 Put simply, yes.
What you eat can benefit your health beyond your waistline. Think reducing your risk of cancer, helping you manage depression and anxiety, or even enhancing your brain power.
"What we eat not only nourishes and strengthens our bodies, but it can help us feel better too," explains Dr. Lori Walsh, the Medical Director of the Center for Health and Integrative Medicine at Advocate Good Shepherd Hospital. "A diet rich in tomatoes, for example, can help us reduce inflammation, cancer, and cardiovascular diseases."
As part of her practice, Walsh incorporates culinary medicine, a field that combines nutrition and cooking skills to make quick, inexpensive meals that taste good and benefit your health and vitality.
"Culinary medicine is driven by data," Walsh continues. "And more importantly, it's a prescription for health that everyone can understand and own. It empowers you to take control of your health by being more mindful about how you are fueling your body and your family for the long-term."
In general, Walsh recommends following a plant-based diet that incorporates the traditional flavors and cooking methods of the Mediterranean region. Think about eating mostly whole grains, vegetables, legumes, fruits, nuts, seeds, herbs and spices, with some fish, seafood, dairy and poultry in moderation.
This diet reduces the risk of heart disease, depression, dementia, diabetes and overall mortality. For example, olive oil, the primary source of added fat in a Mediterranean diet, has been shown to have antidepressant properties while also lowering cholesterol.
While some see diets as a chore, Walsh is quick to add that thinking differently about our food doesn't have to be boring, tedious or hard.
"Gardens produce all year, and eating seasonally is a wonderful way to go," Walsh encourages. "It may mean a little more planning or creativity in the kitchen, but too often, we get locked into a pattern of eating. Don't be afraid to try a new combination or to incorporate the produce available into a favorite recipe. Get your ingredients together and go for it."
Even small changes can have big benefits. Walnuts have been shown to improve cognitive function and reduce the risk of depression and other diseases, so swap them into your pesto recipe. If you're craving something sweet, Walsh suggests sticking with naturally occurring sugars in fruits that are also packed with fiber.
"Slow, gradual change is lasting change," she emphasizes. "Gradually incorporating more whole grains, vegetables and fruits will help you build a strong foundation for your new lifestyle. Nothing is off-limits, but we know that some foods are better choices than others."
Are you trying to watch your weight? Take a free online quiz to learn more about your healthy weight range here. 
Related Posts
Comments
About the Author
Kristen Johnson, health enews contributor, is a public affairs and marketing manager with Advocate Aurora Health. She previously worked as a speechwriter and staffer on Capitol Hill. She enjoys running marathons, good coffee and exploring Chicago's many neighborhoods.