Running to make a difference for her patients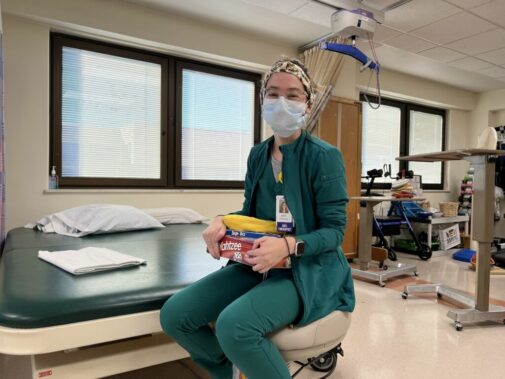 While most first-time Bank of America Chicago Marathon runners are looking for a confidence booster or a sense of accomplishment, Erin Glueck, recreational therapist at Advocate Lutheran General Hospital in Park Ridge, Ill., is ready to gain more than bragging rights as she prepares to race for her patients whom she helps each day recover from injury and illness.
Glueck treats and helps maintain her patients' physical, mental and emotional well-being. She puts in hours of hard work helping them live more independent lives involving greater movement, less pain and more joy. She strives to reduce the stress and anxiety felt by her patients as they recover basic motor functioning; ensuring her time served is purposeful.
"Each day is an opportunity to educate patients on what recreational therapy truly is," says Glueck. "It is a holistic approach to creating a safe space where patients can turn to and trust. Running with Team Advocate in the Chicago Marathon offered a natural way to support stroke and neuroscience research that will create additional educational resources to better understand our patients as we improve on making them feel at their best post-injury."
Every year, the Chicago Marathon inspires both novice and elite runners from all over the world to come together to achieve a great feat. Glueck, a true midwestern girl at heart, started running during the pandemic while exploring ways to bring her joy and motivation. She adopted the back-to-basics exercise to escape outdoors and focus on her physical and mental health during a time when many people were shut-in. This year's race offers another opportunity for her unwavering support to travel further as she joins Team Advocate to help raise money for stroke and neuroscience research that will provide critical education that directly impacts her patients.
"I am inspired by the patients that I get to work with every day, finding ways to support them through their rehabilitation," says Glueck. "A lot of the population has experienced a stroke or a traumatic brain injury that has significantly changed the way their day-to-day living is performed. Any way that I can help brighten their day or make it a little bit easier is the goal I'm running for. I hope I can inspire them to keep fighting."
Glueck has a sense of calm knowing her race will make an immense impact on the lives of her patients.
"I am tying my shoelaces and running with my heart to help bring awareness to patients who are fighting each day to have a healthier lifestyle," adds Glueck. "This will be no easy feat, as it will be my first race, but my motivation is strengthened by the possibilities this research could bring. This is personal to me."
Want to learn more about your risk for stroke? Take a free online quiz here.
Related Posts
Comments
About the Author
Amber Thompson is a marketing graduate of the University of Wisconsin in Milwaukee. In her free time, Amber enjoys passion-filled projects including blogging and photography. Amber loves spending her free time reading journalistic columns, listening to motivational podcasts and discovering creative recipes to get her young son to eat his vegetables.