Even 30 seconds later, he might have died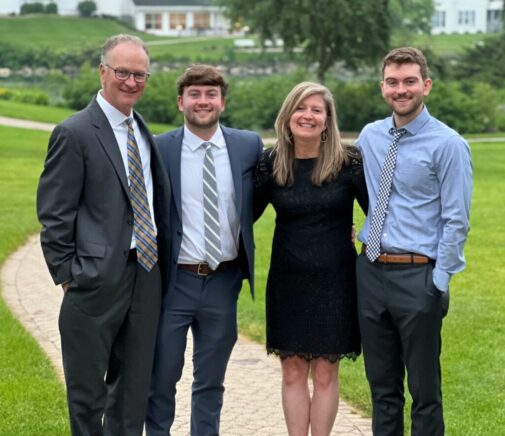 It was around three in the morning when 56-year-old Tim Hussey woke up with a shooting, burning pain in his chest. Right away, he knew something was terribly wrong. He told his wife, Shelley, that he had to get to the hospital as soon as possible — and that they should go to Aurora Medical Center – Grafton for the heart care team there.
Moments after arriving in a room in Aurora Grafton's emergency department, Hussey's heart stopped. The team rushed into action, using a defibrillator to shock Hussey's heart back into rhythm. They quickly identified the cause — his left anterior descending artery was completely blocked. He was having a widowmaker heart attack.
As the team quickly prepared to operate and clear the blockage, Hussey's heart stopped three more times in the emergency department. When he arrived in the catheterization lab where interventional cardiologist Dr. Ali Khan was ready to insert a lifesaving stent, his heart stopped five more times. Each time, the team used a defibrillator to restart his heart.
"The care in the emergency department saved his life," says Dr. Khan, who practices at Aurora Medical Center – Grafton. "If he had been even 30 seconds later into the emergency department, he might not have made it."
By 6:30 a.m., Dr. Khan had placed a stent in Hussey's artery. He was transferred to the intensive care unit, where follow up care included medication to help preserve his heart muscle and pumping capacity.
"It was close. When they wheeled me out of the ER, all I said to Shelley was 'I love you. If this is it, the papers are in my briefcase,'" says Hussey.
Hussey's journey wasn't over. He spent the next few months working with the cardiac rehabilitation team at Aurora Grafton.
"On day one, they put me on the treadmill and I was afraid to take a step," says Hussey. "By the time I finished rehab, they had me going faster than before my heart attack. They restored my confidence. You can't put a price on that."
Today, Hussey is grateful for the team that saved his life. He and his wife even dropped off a card for the care team to express how much they mean to their family. Thanks to that team, and how quickly Hussey was treated, his heart is back to the same pumping capacity as before.
"People tend not to believe this is happening to them. If you have chest pain or other symptoms like this, come to the emergency department right away and get it checked," says Dr. Khan. "Time is muscle. It's better to be safe than delay."
Want to learn more about your risk for heart disease? Take a free online quiz to learn more.
Related Posts
Comments
About the Author
Ben Hoekstra is a public affairs coordinator with Advocate Health Care and Aurora Health Care. He previously worked in marketing and PR for various Milwaukee nonprofits and received his master's degree in Corporate Communications from Marquette University. He enjoys the outdoors, cooking, and all things Milwaukee.