How not to misstep during sports training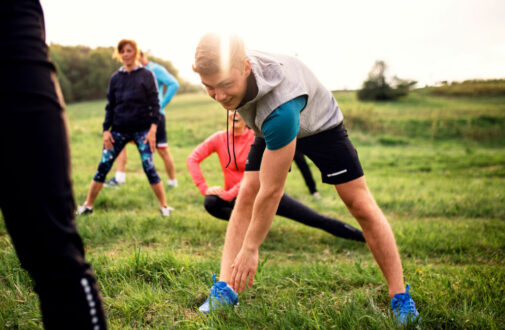 After an off-season from your sport or physical activity, you may be more at risk of a sports-related injury. This is the result of your body being reintroduced to new levels of strain after relaxing time off.
There are many types of sports injuries that can occur such as sprains, dislocations and fractures.
How can they be prevented? Dr. Erica Kroncke, sports medicine physician at Aurora Health Center in Neenah, Wis., recommends treading lightly into the new season.
"Build up strength while keeping it slow," says Dr. Kroncke. "Say at the end of last season, you were squatting 175 pounds, but if you haven't kept up with strength training, that's not what you'll be able to squat today. Keep in mind that you must start slow and work your way back up to your previous strength."
Dr. Kroncke also advises to continually build up strength by supplementing training with conditioning and warm-up or cool-down exercises every day. Dr. Kroncke suggests incorporating these strength training exercises into your everyday routine.
Core exercises – A stable core is crucial for every sport and decreasing your risk for injury. Try incorporating some simple core exercises like planks and sit-ups into your daily routine.
Stay hydrated – Make sure you are taking proper breaks throughout your training to prevent dehydration and heat stroke.
Stretching – Flexibility is key to warming up your muscles prior to training to prevent injury. Stretching should not be painful and you should aim to hold each stretch for 20 seconds.
Rest – It's important to listen to your body and recognize when certain muscles are overused, and you require a break.
Proper technique – Using the right equipment, technique and sport-specific skills particular to your sport is crucial to preventing injury. Speak to your instructor or coach on tips to improve your technique and skills.
Healing time – If you do sustain a sports-related injury, it's important to seek proper medical care and listen to the recommended healing time before returning to your sport.
If you're experiencing any pain, take this baseline assessment for joint pain.
Related Posts
Comments
About the Author
Margaret Weiner is a senior at Marquette University studying public relations, corporate communications and business administration with a concentration in communication leadership