A hands-on approach to muscle pain and migraines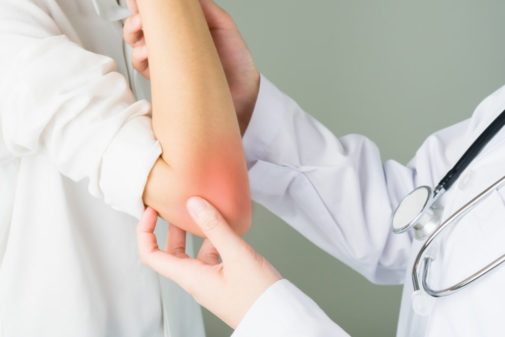 Dealing with muscle pain or migraines for a long time can be frustrating. While you want to improve your condition, you might not want to add another medication or think about surgery. And if rest or stretching hasn't solved your problem, you may feel stuck.
For patients whose symptoms haven't improved but aren't severe enough to require surgery, there is another option. A doctor of osteopathic medicine, or DO, can provide osteopathic manipulative treatment, or OMT, using their hands to assess and treat various conditions.
"I think it's important to understand that most basically osteopathic manipulative treatment, or OMT,  involves human touch," says Dr. Joseph Vogelgesang, family medicine physician and doctor of osteopathic medicine at Aurora Wiselives Center in Wauwatosa. "Not everyone may be comfortable with that. We have a whole set of different techniques or types of hands-on treatment that we tailor to the patient's condition and needs."
OMT is often used for conditions involving joint pain, muscle pain or migraines. However, the treatment can help with a broad range of issues including, but not limited to, pregnancy-related symptoms, irritable bowel syndrome and acid reflux.
"Ultimately, OMT can be an excellent treatment option for patients who may not be getting better with what doctors term 'conservative care' like rest, gentle pain medication and stretches," says Dr. Vogelgesang. "For people who have tried these options without success but their condition isn't severe enough that it needs to be surgically corrected, OMT may help. That's a pretty big subset of the population, believe it or not."
Doctors of osteopathic medicine receive special training in how they view patient conditions and treatment. While they attend four years of post-graduate medical training, they are also trained in other medical practices like OMT.
"A good analogy is an orchestra—it couldn't get by with just the strings or the horns or the percussion sections alone, it's the combination that provides the beautiful music that we enjoy. The body similarly needs to be seen and treated as a whole," he says. "We know that the body is capable of powerful self-healing and that the its physical structure and function are intimately tied together."
Each DO practices a little differently. Different DOs may treat the same condition slightly different such as their assessment and treatment. They may look at other areas of the body in addition to where the patient is experiencing symptoms.
One of the most important steps you can take for your health is to have a primary care doctor of any type. A relationship with a physician that knows you can help you navigate what care you need and when. Talking to your primary care doctor can be the first step to understanding if OMT is a good fit for the symptoms you're experiencing. Not every doctor of osteopathic medicine provides this treatment, so it's a good idea to check with the doctor before you go see a new provider.
Are you having back or neck problems? Take a free online quiz here to learn more. 
Related Posts
Comments
About the Author
Ben Hoekstra is a public affairs coordinator with Advocate Aurora Health. He previously worked in marketing and PR for various Milwaukee nonprofits and received his master's degree in Corporate Communications from Marquette University. He enjoys the outdoors, cooking, and all things Milwaukee.