Tips for holiday gathering post-surgery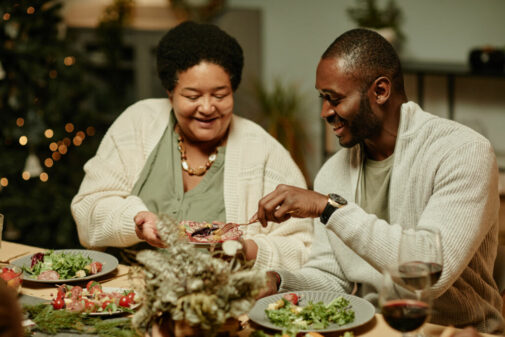 It's important to enjoy the holidays, especially if you recently had a major surgery. Chelsey Daniels, physician assistant on Aurora St. Luke's Medical Center's abdominal transplant and hepatobiliary surgery team, shares the following helpful eating and gathering suggestions for anyone who recently had a major surgery, including an abdominal transplant.
"Many patients have likely had a major surgery to give them more quality years of life. I always encourage our patients to modify their plans to create a healthy environment that supports their post-surgical recovery," says Daniels. "Especially around the holidays, we want our patients to have the most enjoyable experience, creating positive memories with their family and friends."
Meals and snacking
Avoid raw or undercooked meats, eggs, poultry, fish, onions or shellfish.
Be cautious of buffet foods. If they have been left out too long, there is a risk of food-borne bacteria developing.
Use only pasteurized apple cider and dairy products.
Try to avoid foods high in salt as this may cause water retention or elevated blood pressure.
Be sure to stay well hydrated with plenty of water.
If you recently had surgery, let someone else do the cooking this year if your energy is lower.
Opt for fresh, healthy whole foods if you can, but it's okay to enjoy a dessert or two.
Interactions with others
Avoid contact with any friend or family member who is displaying signs of illness.
Wash hands frequently, especially before eating. Bring hand sanitizer with you.
COVID is still ever-present, so wearing a KN-95 or N-95 mask may be recommended to protect yourself from infection.
You may tire out more easily, especially if the transplant was recent. Allow yourself to take breaks or cut a party short if needed. A smaller celebration may be more appropriate.
Instead of attending a religious service where there is a large gathering of people, consider an online service to avoid infections.
Take advantage of outdoor activities if these are an option.
Laughter is the best medicine – spend this time with your closest friends and family and have some laughs.
Do you have hip or knee pain? Take a free online quiz to learn more. 
Related Posts
Comments
About the Author
Michelle is a 20-year veteran in the health and human services industry. Throughout her career, she has helped families navigate community and educational resources, supported children in foster care to successfully transition to adulthood, and advocated alongside survivors of sexual abuse and domestic violence. Michelle donated her kidney to her best friend's father in 2014 and ever since has been an avid supporter of organ donation. Michelle enjoys spending time with her family and friends at the beach, pool and live concerts.