Here's what to do if you witness a cardiac arrest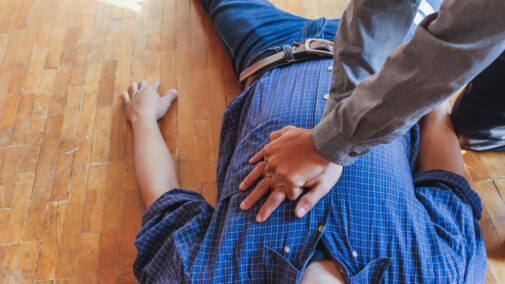 Cardiac arrest occurs when the heart malfunctions and stops working suddenly. It sometimes happens without warning and requires immediate treatment. According to the American Heart Association, approximately 356,000 people in the U.S. experience cardiac arrest outside of the hospital annually.
Bystander knowledge and intervention are vital to ensure a person has the best chance of survival. So, what should you do if you suspect someone is in cardiac arrest?
Dr. Daniel Ahmad, an interventional cardiologist at Advocate Sherman Hospital in Elgin Ill., explains how to help if you find yourself in this situation.
"The first thing to do is to call 911 and get help," shares Dr. Ahmad. "Unfortunately, with cardiac arrest, there may not be any symptoms at all. It can happen very suddenly and look like someone just fainted or collapsed. A lot of time it will lead to the person being unconscious."
If someone collapses, you may feel scared or be in a state of shock. Even if you're not sure what exactly happened, it's important to call 911 immediately.
"If it turns out that someone had a fainting spell because they're dehydrated, that's ok. No one should feel apprehensive to call an ambulance for help," explains Dr. Ahmad. "If the person is having a cardiac arrest, time is muscle. This means the faster they get care the better their chance is for a good outcome."
After calling 911 the next best thing to do is check for a pulse. Place your fingers underneath the jawline on the side of the neck and feel for a pulse for about 10 seconds. If there is no pulse, start chest compressions immediately.
"If a bystander immediately begins CPR, they can help save the person's life. A few minutes can make a huge impact," emphasizes Dr. Ahmad.
CPR is crucial because it helps circulate blood to the heart arteries and to the brain. If the heart is not beating, as is the case with cardiac arrest, the person is not getting any blood flow to the brain. This can cause permanent and irreversible damage to the brain in addition to other vital organs.
"Sign up for a CPR class and get certified," urges Dr. Ahmad. "It can be helpful in the workplace, at home and anywhere else. If you can do that you can truly help save someone's life. All it takes is one person to make a difference."
Want to learn more about your risk for heart disease? Take a free online quiz to learn more.
Related Posts
Comments
About the Author
Elizabeth Blasko is a public affairs coordinator with Advocate Aurora Health. She studied public relations and nonprofit leadership at Western Michigan University. Prior to joining Advocate Aurora Health Elizabeth worked at Bernie's Book Bank, a nonprofit dedicated to increasing book ownership among underserved children. In her spare time, she enjoys reading, watching auto racing, spending time with family and keeping active with her rescue dog, Bristol.