How a 'heart in a box' device is making history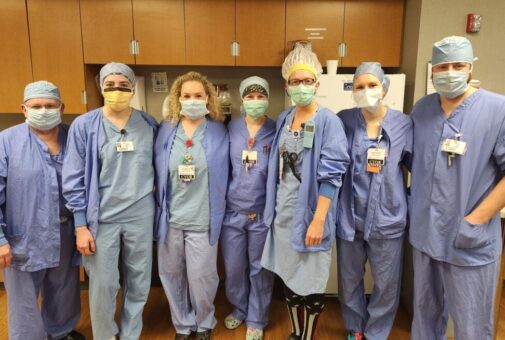 If you're a heart transplant recipient, it may surprise you to learn your donated heart came from hundreds of miles away. With the help of the TransMedics Organ Care System (OCS) Heart System, some heart donations are traveling farther distances. The device is used to resuscitate a stopped heart and keep it beating while in transit.
Dr. William Fischer, cardiothoracic surgeon at Aurora St. Luke's Medical Center, used the device in early February. He and his organ procurement team traveled by plane to receive the heart. The team watched closely as the TransMedics crew flushed the heart with a preservative solution before carefully placing it into the rectangular box-shaped device. The crew then connected the heart's aorta and pulmonary artery to the device and warm, oxygenated blood began pumping until the heart was resuscitated.
Once the heart was beating independently, it was time for Dr. Fischer and his team to travel back to Milwaukee where they disconnected the heart from the device, removed it from the box and prepped it for the recipient. Dr. Fischer says the heart was on the machine for about 2.5 hours before the transplant surgery took place.
"The TransMedics OCS Heart System is an added tool in our toolbox that will allow for more transplant opportunities," says Dr. Fischer. "Donor hearts preserved by the cold storage method last about 4 hours before transplant. This device extends that time to about 8 hours."
According to Dr. Fischer, there's now an expanded donor pool for future patients needing a heart transplant because of the prolonged heart preservation time when using the device. He says he's looking forward to seeing how this changes heart transplant surgery.
This was the first time in Aurora Health Care history the so-called 'heart in a box' device was used during a transplant.
"Historically, our transplant program has been on the cutting edge, beginning with the first heart transplant in the Midwest. Now, this technology is another step forward in our program's dynasty to best help our patients receive care," says Dr. Fischer.
Want to learn more about your risk for heart disease? Take a free online quiz.
Related Posts
Comments
About the Author
Danielle Stobb, health enews contributor, is a public affairs coordinator in Greater Milwaukee, Wis.