Here are 6 signs you may be vitamin D deficient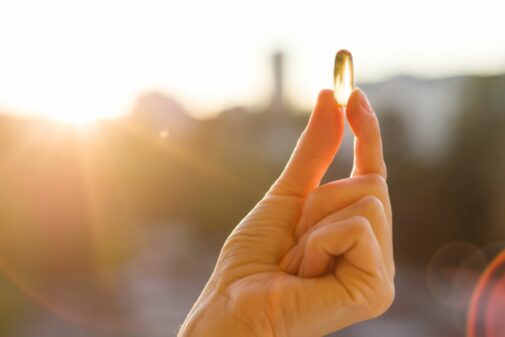 Vitamin D is an important nutrient we need to stay healthy and keep our bones strong, according to the Academy of Nutrition and Dietetics. But its importance doesn't stop there. It also plays a role in keeping our teeth strong and helping to protect against the loss of bone mass. Our immune system also uses vitamin D to help fight off viruses.
Maintaining healthy levels is important to our overall health. But identifying vitamin D deficiency isn't as simple as looking at a list of symptoms.
"Many people who are vitamin D deficient do not become symptomatic until it is severe," says Dr. Katie Thompson, internal medicine physician at Aurora Health Care.
But there are signs to look out for. Being vitamin D deficient can cause weak bones or muscles that can lead to fractures, according to Dr. Thompson. She says other less severe symptoms can include mood changes, muscle cramps, bone and joint pain, and fatigue.
If you experience these symptoms, you should notify your primary care provider. They may recommend running tests to see if supplementation is needed.
Dr. Thompson cautions against going straight to extra supplementation.
"Vitamin D is a vitamin you can take too much of, so it is never a bad idea to check a lab to make sure a supplement (and what dose of supplement) is needed," she explains.
Dr. Thompson says that increasing vitamin D-rich foods, spending time outside and taking a vitamin D supplement (with proper dosage), are the best ways to avoid becoming vitamin D deficient.
You can naturally increase your vitamin D levels by eating a well-balanced diet , along with spending a short amount of time in the sun (10 to 15 minutes), when possible.
Here are some of the most common vitamin D-rich foods, according to Dr. Thompson:
Milk, orange juice, or yogurt fortified with vitamin D
Salmon, mackerel, or trout
Canned tuna fish
Sardines
Cereals fortified with vitamin D
Cod liver oil
Now is the perfect time to make an appointment with a primary care physician. Whether you live in Illinois or Wisconsin, it's easy to find a doctor near you. 
Related Posts
Comments
About the Author
Sarah Kennedy is a digital content specialist with Advocate Aurora Health. She previously worked as a managing editor for a B2B publication and a digital editor for various websites. She studied journalism at Columbia College Chicago.