How a doctor is ensuring health care is a human right for all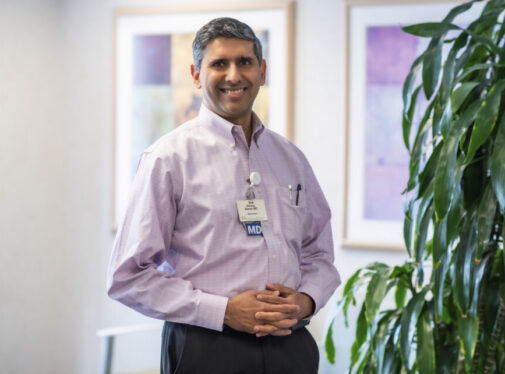 Dr. Sarang Baman has worked nearly 21 years in medicine, and he isn't done yet. A family medicine doctor serving the Greater Milwaukee area, he's been the medical director of population health at Aurora Health Care for more than five years. Dr. Baman enjoys primary care because he's able to make a positive impact on patients' lives.  
"My job is to really teach patients how to be healthy," he says. "In primary care, the goal is trying to get people to a healthier state and guiding their lifestyle choices."  
Dr. Baman invests his time in health equity daily because, "We live in the wealthiest country in the world. Yet everywhere we look there are so many disparities in health. I personally believe that health care should be a human right. When I see people lacking access to health care or there are poor outcomes because of disparities or discrimination or whatever it may be, it's just not right. These disparities became even more obvious during the COVID pandemic."  
To offer broader care, more flexibility and improve health equity, Advocate Health Care and Aurora Health Care enrolled in ACO REACH, or Accountable Care Organization Realizing Equity, Access and Community Health. ACO REACH is the Center for Medicare and Medicaid Services' new value-based care program focused on promoting health equity and addressing care disparities, especially in underserved populations. Social determinants of health (SDOH), including food insecurity, inadequate housing, financial strain, transportation needs, intimate partner violence and social connections are critical components of ACO REACH.   
Dr. Baman feels ACO REACH is a natural fit. "We'll be screening this population for SDOH concerns. We have the population health infrastructure that helps with care management services for people who are higher risk. They can help address some of these social drivers. Through ACO REACH there is access to pharmacy, behavioral health, social workers and more." 
Addressing health disparities truly makes a difference and ACO REACH allows the opportunity to improve them.  
"Studies show 80% of your health has to do with what happens outside the clinic: where people live, where they work, etc." Dr. Baman says. "Factors such as those have a much stronger influence on their health and well-being than what we provide from a medical perspective. So we're taking those things into account, which have not traditionally been a part of medicine, and are working to help address them." 
Learn more about our commitment to health equity in Illinois and Wisconsin. 
Related Posts
Comments
About the Author
Blair Crane, health enews contributor, is a public affairs coordinator for Advocate Health Care and Aurora Health Care. She earned her Bachelor's degree in communication from the University of Missouri - Columbia and has more than six years of communication and marketing experience. Outside of work you can find her trying new restaurants and hanging out with her two cats.