Why this doctor has shifted her focus to integrative medicine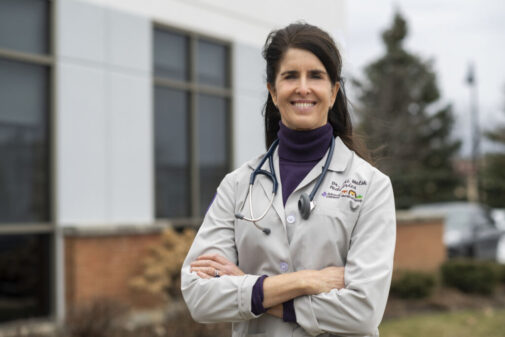 Dr. Lori Walsh has had an appreciation for helping others for as long as she can remember. But it was at the early age of 10 when an appendectomy opened her eyes to a new world of giving back and sparking a long and successful career in medicine.  
"When I was growing up, we had a great pediatrician who my mom really valued," Dr. Walsh says. "My pediatrician was a woman, and her husband was the surgeon who took my appendix out. They both took great care of me. I look back on it now and think, 'Wow, that was amazing.' I had a problem and they solved it and did so in the most caring and efficient way possible."  
Today, Dr. Lori Walsh is the medical director of pediatric integrative medicine at Advocate Children's Hospital and Advocate Good Shepherd Hospital's Center for Health and Integrative Medicine.   
After spending most of her 33-year career in pediatrics, Dr. Walsh has shifted her focus to integrative medicine for children and adults, something she has been studying and training in for the past six years. Integrative medicine combines alternative medicine with evidence-based medicine, an approach that considers all aspects of lifestyle: mind, body and spirit.  
"This shift into integrative medicine has allowed me a broader framework for building up health," Dr. Walsh says. "Culinary medicine, a subset of integrative medicine, is a way we can teach people how to prepare healthy foods that are culturally sensitive, cost-effective and delicious. We're teaching this to our pediatric residents as well. We're all learning together." 
Dr. Walsh is part of a team that is leading a health equity initiative to address food insecurity. A community and hospital collaboration, the Center for Health and Integrative Medicine supports health and healing for everyone – patients, hospital teammates and area residents – providing ways to practice good nutrition. 
A Smart Farm is located on the hospital campus' land, and there's a five-year plan to expand including growing food through regenerative agriculture. This form of farming creates soil that is nutrient rich versus the standard practices of farming, which can deplete the soil of micronutrients, lessen beneficial microorganisms and potentially harm the environment.  
"We have two farmers at our hospital working with a consultant who is a leader in regenerative agriculture," Dr. Walsh says. "Regenerative agriculture is a way for farmers and hospitals to partner in health by distributing food throughout our organization's region to address food insecurity for the community, patients and health care workers in the hospital." 
Read more Doctor's Day stories. 
Are you trying to find a doctor? Look here if you live in Illinois. Look here if you live in Wisconsin. 
Related Posts
Comments
About the Author
Adam Widman, health enews contributor, is a public affairs manager with Advocate Health Care and Aurora Health Care.