Endoscopic submucosal dissection offers hope for those needing large polyp removal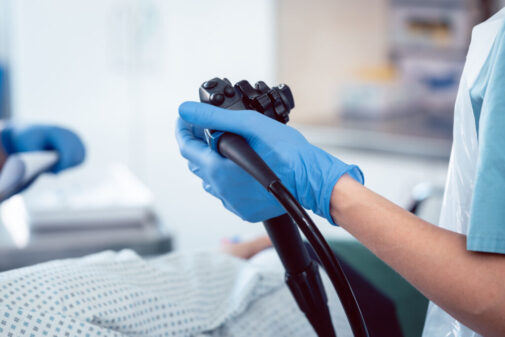 When Wade Ayer hit his 50th birthday, he celebrated the milestone year by taking up an unlikely new sport – ice hockey. A busy athlete, sportsman, musician and family man, Ayer was excited to check it off his bucket list.
The one thing he didn't check off the list, however, was getting his colon cancer screening.
Before he knew it, four years had passed. Prompted by persistent reminders from his wife, he finally scheduled the screening.
Then came the shocking news. Despite having no symptoms or issues, and no family history of colon cancer, the colonoscopy revealed a large polyp in his colon – so big, says Ayer's doctor, he needed to be referred to a specialist.
That's when he met Dr. Mohammed Qadeer, gastroenterologist at Aurora Medical Center – Kenosha, an expert in a technique called endoscopic submucosal dissection (ESD).
"In the past, these kinds of polyps would have required removal of the colon," says Dr. Qadeer. "Now with ESD, we're able to remove these polyps completely via a minimally invasive technique. It saves the patient a surgery, colon removal and complications, and side effects."
How does it work?
ESD is a minimally invasive procedure that uses a flexible, tube-like tool called an endoscope to remove precancerous and early cancerous areas in the gastrointestinal (GI) tract. Submucosal means this procedure can also target tumors that have penetrated the top lining of the GI tract (mucosa). These tumors can be close to muscle tissue and can be difficult to remove completely with other methods. Studies have shown that in selected cases when compared to surgery, the ESD technique is equally effective, but has fewer complications, less pain, quicker recovery, earlier return to work and less expensive.
Ayer underwent the procedure successfully and was discharged home within a few hours. He recovered uneventfully and was back to normal life within the next few days.
"I wasn't even in pain. I just sat on my screened-in porch and reflected on what I'd been through," says Ayer.
Dr. Qadeer called him a few days later.
"This is the best part of my job, when I get to tell my patients, they don't have cancer," he says. "This conversation would have been a lot different a year from now."
Pathology revealed that the polyp was completely excised and thus a major operation was avoided. Back to his active lifestyle, Ayer just needs a follow-up colonoscopy one year later.
Only a few centers in the United States perform ESD because the procedure requires a high degree of expertise and precision.
"Using this technique, we're able to remove large polyps and early cancers from the esophagus, stomach, duodenum and colon. We are very excited to be offering this advance technique to our patients," says Dr. Qadeer.
Now Ayer has added another activity to his busy life — sharing his story with others and coaching them to get their colon cancer screening.
"I've told my story to so many people, especially guys, who are avoiding their colonoscopy," he says. "I even told my story to all the players on my hockey team — don't skip your screening."
Learn your risk for colorectal cancer by taking our colorectal health assessment. Learn more information about colorectal cancer screenings in Illinois or Wisconsin. 
Related Posts
Comments
About the Author
Annette Guye-Kordus is a public affairs coordinator with Advocate Health Care and Aurora Health Care.