Bring a healthy cheese and meat board to your next gathering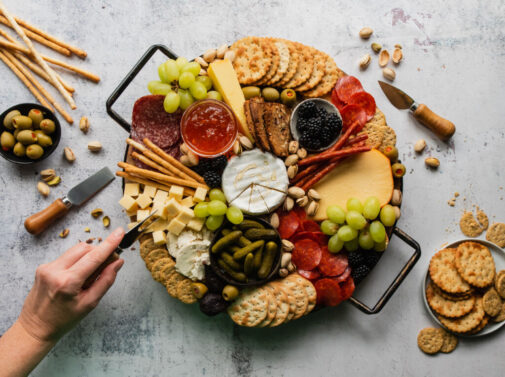 While you still may need Google Translate to pronounce this French tradition of assorted cheeses and meats, you do not need to break the calorie bank to enjoy a charming and flavorful charcuterie (pronounced "shahr-ku-tuh-ree") board.
Even if you struggle with the pronunciation, there are plenty of healthy options, offering varied textures, colors and taste to balance the spread. Here are tips to enjoy a healthier version from registered dietitian, Heather Klug, with the Karen Yontz Women's Cardiac Awareness Center at Aurora St. Luke's Medical Center.
Meats: To keep calories and fat intake in line, look for leaner cuts of meat, like prosciutto, ham, and turkey. Smoked salmon is also a great option and delivers healthy omega-3-fat. Avoid processed meats found on traditional boards.
Cheeses: Cheese is very high in saturated fat so enjoy small amounts. Good options include swiss, mozzarella, cheddar, Gouda, baked Camembert and softened goat cheese.
Carbs: Stay away from empty carbs, like breads and crackers made from refined flour. Choose whole-grain crackers or toast your own whole-grain baguette slices. Get creative and offer different fillers, like holiday cut-out grilled cheeses or flavorful hummus like roasted beet or roasted red pepper hummus.
Fruits/veggies: Choose berries, grapes, apple, pear, orange slices, dried fruits like apricots, figs or dates and crunchy, colorful raw vegetables such as carrots, celery sticks, bell peppers strips and cucumber slices.
Nuts/olives: Raw almonds, pecans, cashews, or pistachios; choose unsalted or lightly salted options. Black, green and kalamata olives in a small dish.
Sweets: Jam and honey and small pieces of dark chocolate.
Part of the fun of a building charcuterie is showing off your creative flair and accompanying your board with a variety of accessories, tools, and garnish. These decadently-presented accompaniments of knives, spreaders, bowls and name tags add the right amount of style with zero guilt. Try adding garnishes like fresh cranberry, cinnamon sticks or rosemary branches. If grazing on an open board seems too tempting, consider putting individual servings of your healthy charcuterie options in mason jars or decorative cups.
"Research shows that the more variety of food available, the more we eat, which can get us into trouble with a meat and cheese board," Klug says. "I would recommend a more balanced charcuterie board with colorful veggies and fruit present to tease the eye and to help prevent overindulgence of meat and cheese. The fiber from vegetables, fruit, whole grains, olives and nuts also helps provide a feeling a fullness."
Are you trying to watch your weight? Take a free online quiz to learn more about your healthy weight range here. 
Related Posts
Comments
About the Author
Michelle is a 20-year veteran in the health and human services industry. Throughout her career, she has helped families navigate community and educational resources, supported children in foster care to successfully transition to adulthood, and advocated alongside survivors of sexual abuse and domestic violence. Michelle donated her kidney to her best friend's father in 2014 and ever since has been an avid supporter of organ donation. Michelle enjoys spending time with her family and friends at the beach, pool and live concerts.