Warning signs of a serious pregnancy complication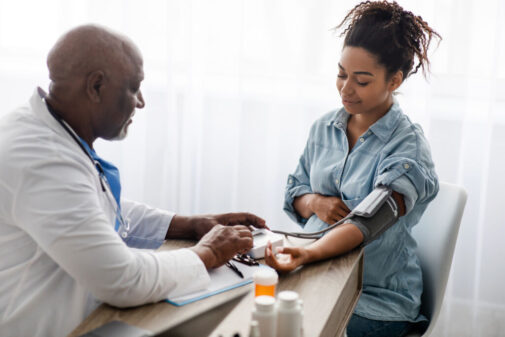 Preeclampsia, a serious pregnancy complication characterized by high blood pressure, elevated protein levels and damage to organs such as the liver and kidneys, can have significant impacts on both the child bearer and baby. While the condition can affect any pregnant woman, Black women are at a higher risk of developing preeclampsia and experiencing severe complications.
"The impacts of preeclampsia can be devastating for both mother and baby," says Dr. Gregory Woodfill an obstetrics and gynecology physician at Aurora Women's Health in Two Rivers, Wis. "In severe cases, the condition can lead to premature birth, low birth weight, placental abruption, and even maternal and fetal death."
According to the Preeclampsia Foundation, the pregnancy complication can impact up to 8 percent of all births in the United States. Black women are 60 percent more likely to develop preeclampsia than white women. This disparity is even more pronounced for severe cases, with Black women being three times more likely to experience severe preeclampsia and also more likely to die from related complications.
Several factors contribute to preeclampsia disparity, including genetics, socioeconomic factors and healthcare disparities. In addition, the American Heart Association says Black women are more likely to have pre-existing conditions such as high blood pressure, which can increase their risk of developing pregnancy-related complications.
Early detection can save lives.
"Access to quality prenatal care and timely interventions are critical for preventing and managing preeclampsia, which can occur during pregnancy and postpartum," says Dr. Woodfill. "Educating patients about the warning signs and symptoms of preeclampsia, which may include abdominal pain, shortness of breath, headache, vision problems, nausea and anxiety is also crucial to early diagnosis."
If you are experiencing abnormal symptoms during pregnancy, Dr. Woodfill recommends asking an obstetrician. They can help you understand your symptoms, next steps and answer questions you may have.
Are you trying to find an obstetrics and gynecology physician? Look here if you live in Illinois. Look here if you live in Wisconsin.
Related Posts
Comments
About the Author
Cassie Richardson, health enews contributor, is regional coordinator on the Public Affairs team for Advocate Health Care and Aurora Health Care. She previously worked as a TV news reporter and fill-in anchor covering medical, political, feature and breaking news stories at CBS 58 in Milwaukee, WBAY-TV ABC in Green Bay and NBC Nebraska- Scottsbluff. Cearron enjoys spending time outside with her three dogs, biking, traveling and interior decorating.