A true calling – how a lifelong dream became reality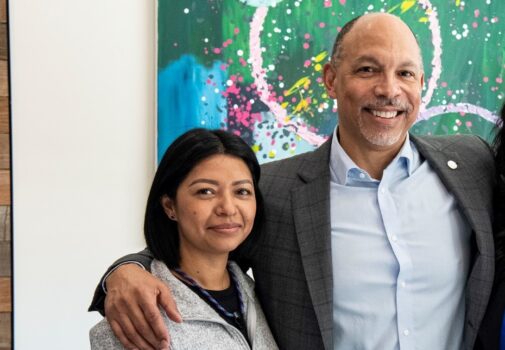 It's early on a cold winter morning and just minutes before opening, there's already a line.
Patients, caregivers and interpreters have congregated outside of the clinic, many of them new arrivals to a foreign country and all of them there because there is nowhere else to turn.
As she walks in for work, one man catches her eye. Through his tears, he says to her in Spanish, "I don't feel well." His friend tells her that if he isn't seen soon, he'll die.
Coming to America
For Maria Perez Garcia, moments like this are her calling. Born in Mexico City, she and her family came to the U.S. when she was 8 years old and settled in Milwaukee, Wis.
From an early age, she was the family interpreter. When her grandmother was sick and in the hospital, Maria was the bridge, connecting languages and cultures to get the care she needed.
"Health care was interesting to me from a young age. The care she received and the compassion and work from the nurses was so amazing, I thought why not do that," says Garcia.
As she grew up, familiar barriers stood in her way. With dreams of going to college, Garcia and her family didn't know where money for tuition would come from. And because of her legal status, she couldn't work.
Undeterred, she enrolled in nursing school and became the first person in her family to earn a college degree in 2009. That fall, she began volunteering at Aurora Walker's Point Community Clinic in Milwaukee, serving as an interpreter for Spanish-speaking patients.
Garcia spent four years as a volunteer, learning valuable medical assistant skills and helping patients with breast cancer, cervical cancer and cardiovascular screenings.
In 2012, her legal status changed, and she was finally qualified for employment. Early in 2013, there was a registered nurse job opening at Aurora Walker's Point Community Clinic, and her lifelong dreams became reality.
"I didn't want those things to stop me from where I was going," says Garcia. "I knew it was going to be a long journey, and I didn't want any regrets. It was such an accomplishment for me and my family."
The Walker's Point Community Clinic is the largest free clinic in Wisconsin. It provides multilingual, culturally sensitive care to low income, immigrant, refugee and underserved patients in the Milwaukee area.
The clinic serves patients from Central America, South America and even the Middle East, but the majority are from Mexico. Regardless of their homeland, in every patient Garcia treats, she sees herself and the journey she's taken.
"I identify with a lot of people here. I know exactly what the struggles are," says Garcia. "It's nice to talk to patients and share a little bit about ourselves and let them know that we understand and that we are a safe place for everybody."
Putting her calling to practice
On that winter morning, with the man who was sick and his friends desperate for help, Garcia's words and actions told them everything would be alright.
So weak that he could not get up off the floor, Garcia and her teammates treated him for chest pain. He was transferred to Aurora St. Luke's Medical Center, where he was diagnosed with a life-threatening condition.
After weeks of intubation and care, the man made a full recovery. Without the care Garcia gave him, it's possible that he could have died.
"People don't know where else to go, but they hear about us and know we're going to help them," says Garcia. "Those are the things that keep me coming back every day."
Related Posts
Comments
About the Author
Matt Queen, health enews contributor, is a communication coordinator at Aurora Health Care in Milwaukee. He is a former TV sports anchor and journalist with extensive public relations experience across the health care spectrum. Outside of work, Matt enjoys watching sports (of course), cooking, gardening, golfing and spending time with his wife and two young children.