Why seasonal allergies started earlier this year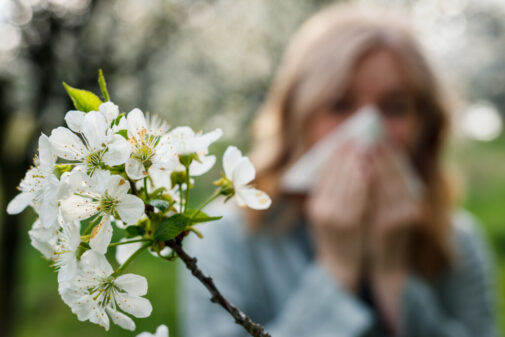 When you think of spring, you might think of blossoming flowers. Or you might be one of the many people who think of their yearly battle with seasonal allergies.
Seasonal allergies are defined as having an immune response to pollen and mold spores, according to the American College of Allergy, Asthma, and Immunology. These allergy sufferers will feel symptoms ramping up starting as early as February through the beginning of summer. Those symptoms include a runny nose, nasal congestion, cough or watery eyes, according to Clayton Keene, nurse practitioner at Aurora Family Medicine in Oconto, Wis.
However, if you experienced symptoms earlier this year, you are not alone. This is a result of shifting precipitation patterns and rising temperatures which signal plants to begin growing, according to the Centers for Disease Control and Prevention.
Keene says the following tips can help you fight off allergies:
Monitor your dietary intake – Over 70 percent of our immune cells are located in our gut. To help re-regulate your gut, eliminate sugar, gluten and dairy products. Taking a probiotic daily can also help.
Air purification – Purifying filters can remove up to 99 percent of particles such as unwanted pollens, dander and molds that are circulating in your home.
Shower daily – Similarly, changing your clothes daily and washing your bed linens weekly can remove unwanted pollens and allergens.
Try a saline rinse – This can be an effective, safe way to clear the nasal passages from allergens. Many people have found great relief from using a neti pot.
Take vitamins – Improve your immune response by taking vitamins A, C, and D and omega-3 fatty acids. Studies have found Urtica dioica leaf, more commonly known as stinging nettle, to offer allergy relief as well.
Most people find relief from at-home treatments such as over-the-counter medications. However, Keene recommends scheduling an appointment with your primary care provider if you experience symptoms for more than three months.
"Reach out to your provider if symptoms start to impact your daily life such as your ability to sleep or work. Additionally, children and older adults should check with their provider before trying any new over-the-counter medications to ensure it's the right fit for them," says Keene.
Do you need help getting your allergies under control? Find a doctor in Illinois or Wisconsin.
Related Posts
Comments
About the Author
Anna Kohler, health enews contributor, is a public affairs specialist for Advocate Health Care and Aurora Health Care. She received her Bachelor of Science in public relations from Illinois State University and has worked in healthcare public relations for over three years. In her free time, she enjoys working out, exploring new places with her friends and family and keeping up with the latest trends.