Earth Day 2023: How to be sustainable at home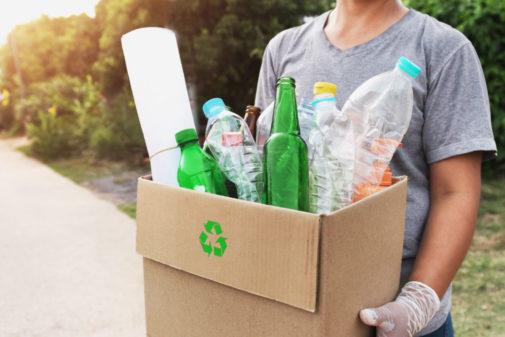 There is a fundamental connection between having a healthy planet and healthy people. Help celebrate the 53rd anniversary of Earth Day by introducing these sustainable measures into your everyday routine at home:
Reduce your energy use: Switch to LED lights, use natural lighting, turn your computer and monitor off at night, purchase ENERGY STAR devices, and unplug unused devices or use a smart strip to reduce your energy usage. You can also perform a home energy audit using this guide.
Use renewable energy: Consider installing solar panels at your residence or purchasing renewable energy and/or community solar with your utility.
Buy sustainably: Purchase products that are reusable, contain post-consumer recycled content, are compostable or recyclable, are locally sourced, or have green certifications. Always ask yourself if you need to purchase new or consider purchasing second-hand items.
Recycle correctly: Empty items of liquids and foods before recycling (they don't need to be squeaky clean, just not full of food or liquid). And check on what is recyclable in your area. For items not accepted in your curbside recycling search here.
Repurpose items: Give unused items a new life by "upcycling" them into a DIY or art project.
Eat more plants and less meat: Adopting a more plant-based diet can lower your risk for diabetes, heart disease, and obesity, along with being better for the environment. Try going meatless for a day.
Get growing! Growing plants can help support your health and the environment. Choosing native plants can help reduce flooding, provide wildlife habitat and they require less upkeep.
Green cleaning: Many conventional cleaners contain chemicals that can contribute to pollution. Switching to green cleaners or DIY cleaners or disinfectants, where appropriate, can reduce pollution in your home.
Limit water use, especially on rainy days: Doing laundry and using a lot of water during heavy rainfall can overburden water infrastructure and worsen flooding, wait a day if you can! Purchase low flow products and limit showers to seven minutes to reduce water use.
Opt-out of junk mail and wasteful packaging: Register for digital bank statements and remove your name from junk mail lists. Reduce packaging by buying in bulk, purchasing less wasteful products and having your online purchases shipped together.
To protect personal health, we must also protect environmental health. By 2030, Advocate Health Care and Aurora Health Care will achieve carbon neutrality and strive for net zero carbon by 2035.
Travis Hawks is a sustainability specialist at Advocate Health Care and Aurora Health Care.
Related Posts
Comments
About the Author
Travis is the Sustainability Specialist for Advocate Health Care and Aurora Health Care. He primarily works on managing sustainability data (waste, green purchasing, energy usage, etc.), system sustainability education, and on waste and energy reduction projects for the system.