How a heart device is giving an avid bicyclist peace of mind on the trail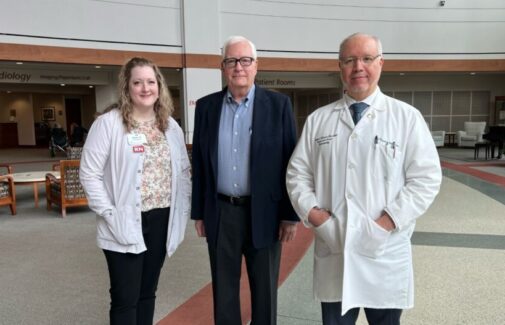 At 76 years old, David Sheridan knows the value of an active body and mind. When he's not busy biking along the Oak Leaf Trail, he's doing research for the U.S. Census Bureau, playing chess or reading non-fiction.
More than a decade after Sheridan was diagnosed with heart disease and atrial fibrillation (A-fib), a type of arrhythmia, he stumbled upon an article about the WATCHMAN device in a magazine. He reached out to Dr. Mohamed Djelmami-Hani, a cardiologist at Aurora Medical Center – Grafton, to inquire if he would be a good fit for the procedure. He was.
During the minimally invasive procedure, the WATCHMAN device is implanted into the heart's left atrial appendage. It acts as a plug inside the pouch-like structure of heart tissue and reduces the patient's chance of blood clots and stroke. According to Dr. Djelmami-Hani, it's not necessary to keep the pouch open for the heart to function properly. He compared the left atrial appendage to an appendix.
"After learning I was eligible for the procedure, I told my sons it felt like Christmas," says Sheridan. "I'm very active and used to worry about falling while riding my bike. I knew receiving the WATCHMAN device would allow me to come off pricy blood thinners and give me peace of mind."
Before the WATCHMAN device, the only treatment available for A-fib was anticoagulants, or blood-thinning medications, which are known to be expensive and can lead to bleeding episodes if a patient sustains an injury.
"The WATCHMAN device is a solution to that conundrum," explains Dr. Djelmami-Hani. "Many people don't know they need it, but now we have an answer."
Dr. Djelmami-Hani says 40% of people with A-fib aren't diagnosed. The heart condition also becomes more common with age.
Heather Rahlf, a registered nurse at Aurora Grafton, documents all risk factors before taking a patient off a blood-thinning medication. She examines patients' hearts with special imaging to help coordinate the best care plan before and after the procedure.
In March, Sheridan was approved to become one of the first patients to undergo the procedure at Aurora Grafton. Sheridan says it lasted 48 minutes and he was at home recovering the next day.
"Everyone my age worries about something or another. When you can take health care out of that equation, it's just a big bonus," says Sheridan.
When it's warmer outside, Sheridan says he looks forward to getting back on his bike. In the meantime, he plans to spend quality time with his four grandchildren and three sons.
Want to learn more about your risk for stroke? Take a free online quiz here.
Related Posts
Comments
About the Author
Danielle Stobb, health enews contributor, is a public affairs coordinator in Greater Milwaukee, Wis.