Curb the itch. It may help you feel happier.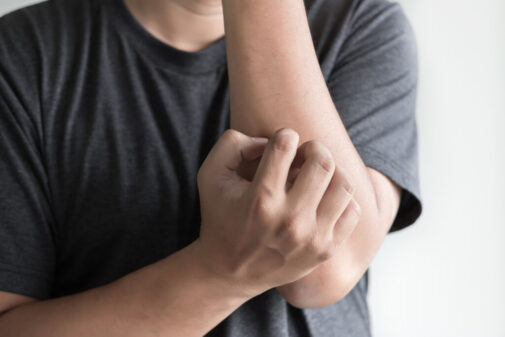 We all know the annoyance of an itch you just can't quite reach. But did you know itchy skin may lead to poorer mental health?
In a study across 13 countries, more than 3,500 patients with skin conditions such as atopic dermatitis, eczema and psoriasis, and more than 1,000 people without dermatology conditions (controls) participated. Researchers assessed all the participants through questionnaires and clinical examinations for the presence of an itch, as well as the frequency and intensity of the itching.
In evaluating the results, the scientists discovered a correlation between itch and depression and suicidal ideation, as well as stress.
In patients with itch, the occurrence of depression was 14% compared to 5.7% in patients without itch, 6% in controls with itch, and 3% in controls without itch.
The occurrence of suicidal thoughts was 15.7% in patients with itch compared to 9% in patients without itch, 18.6% in controls with itch and 8.6% in controls without itch.
Participants with itch reported a higher incidence of stressful life events than those without itch.
The researchers think the correlation may be because itch is associated with skin inflammation, which in turn can influence serotonin levels. An improper balance of serotonin can lead to depression and anxiety.
"Itchy skin is very common and this study suggests chronic itch can contribute to a person's psychological well-being, significantly affecting a person's daily life," says Dr. Marianne Junck, dermatologist at Aurora Health Center in Menomonee Falls, Wis. "If itching persists, it can be a sign of a skin condition, which often can be easily treated."
Two common skin conditions that cause itching are eczema and psoriasis. Eczema most often occurs in childhood, but adults can develop it, too. Those with eczema experience patches of skin that become inflamed, itchy and scaly.
Psoriasis is an overproduction of skin cells where areas become red, itchy and scaly, usually occurring on the scalp, elbows, knees or lower back. It sometimes runs in families, but breakouts can also be triggered by stress, a skin injury or certain medications.
Although there's no cure for eczema or psoriasis, they can be controlled with treatment and home remedies to help reduce itchiness and other symptoms. Treatment options for eczema, psoriasis and other skin conditions include creams, antihistamines and topical and oral medications.
"Getting the right care for your specific condition and the extent it's affecting your life is important," Dr. Junck advises. "It can help heal your skin and reduce the itch, so you can look – and feel – your best."
Do you have an itchy patch of skin you're concerned about? Now's a perfect time to make an appointment with a doctor – virtual or in-person. Easily find a physician in Illinois or Wisconsin.
Related Posts
Comments
About the Author
Mary Arens, health enews contributor, is a senior content specialist at Advocate Health Care and Aurora Health Care. She has 20+ years of experience in communications plus a degree in microbiology. Outside of work, Mary makes healthy happen with hiking, yoga, gardening and walks with her dog, Chester.