Reverse aging with what you put on your plate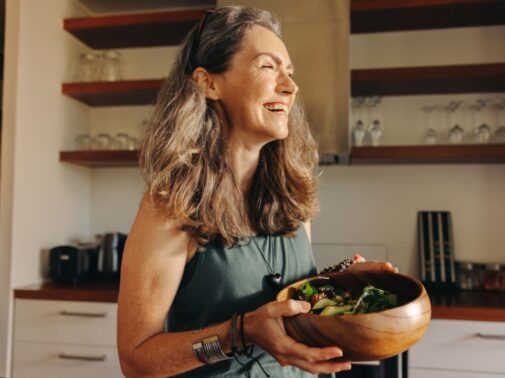 The Fountain of Youth might be much closer than you think. A new study found that eating more nutrient-dense foods containing flavonoids can help prevent frailty as you age.  
Frailty affects around 10-15% of adults over the age of 65 and about 25% of those aged 85 and older. Frailty can increase the risk of falls and associated injuries like sprains and fractures, along with hospitalizations. As you age, you may notice a general decline in physical function and a loss of muscle mass, weight loss, decreased mobility, and fatigue. 
"Flavonoids are naturally occurring compounds found in plants and are considered powerful antioxidants," says Julie Cohen, registered dietitian at Advocate Good Shepherd Hospital in Barrington, Ill. "These properties help lower inflammation in the body and may reduce the risk of frailty as we age."
An antioxidant is a chemical compound that protects the cells from damaging free radicals. Without this protection, the damage over time can increase the risk of various medical conditions like heart disease and cancer. Because flavonoid-rich foods contain high levels of antioxidants, they play a key role in reducing your risk of chronic diseases such as cardiovascular disease. 
Cognitive decline is also associated with frailty. But some theorize that flavonoids may also help cognitive function by improving blood flow to the brain. 
So, where can we find this Fountain of Youth? Well, the key is to incorporate a diet rich in flavonoids. Cohen suggests having six "fistfuls" of fruit and veggies a day and incorporating a wide variety of colors.   
"Many foods that are rich in flavonoids have the added bonus of being rich in fiber, vitamins and minerals. The body definitely prefers food sources versus supplements for all its nutritional support," says Cohen. "Think of foods like berries, red cabbage, onions, kale, garlic, apples, parsley, asparagus, tea, dark chocolate, citrus and soybeans. Eat a combination of raw as well as cooked foods."  
Cohen notes that while increasing flavonoids may help to decrease frailty, it's also important to examine your diet as a whole.  
"It's best to avoid high sugar foods and highly processed foods," says Cohen. "Aim for three healthy meals a day that provide fruit and vegetables of various colors, as well as lean protein, heart-healthy fats, whole grains and low-fat dairy products."   
Are you trying to watch your weight? Take a free online quiz to learn more about your healthy weight range here. 
Related Posts
Comments
About the Author
Margaret Weiner is a senior at Marquette University studying public relations, corporate communications and business administration with a concentration in communication leadership