This spinal condition may be the cause of your headaches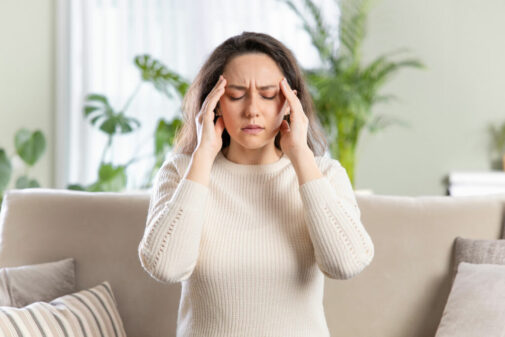 For months, Diane Urban's life revolved around trying to manage her frequent headaches.
She planned her days around finding a time and place to lie down – the only remedy that seemed to mitigate the pain. Her ears would ring, and the side of her face would go numb. She lacked energy and stopped going out with friends, fearing her headache would become so severe that she'd have to leave.
Feeling deflated, Urban went from doctor to doctor undergoing tests and trying to determine what was wrong. She was referred to the Advocate Brain & Spine Institute at Advocate Lutheran General Hospital in Park Ridge, Ill., where her neurosurgery and neuroradiology teams were finally able to pinpoint the source of her symptoms – a cerebrospinal fluid (CSF) leak along her spinal cord – and treat it with a cutting-edge, minimally invasive procedure.
"I feel like I finally recognize myself again," Urban says.
A layer called the dural sac holds the cerebrospinal fluid around the brain and spinal cord, says Dr. Demetrius Lopes, Urban's neurosurgeon and co-director of the comprehensive stroke program at Advocate Health Care. If that lining is torn or ruptured, the fluid will leak out, causing intracranial hypotension and severe headaches.
In Urban's case, the spinal fluid was leaking both locally and into a nearby vein, creating a fistula, or an abnormal connection to the vein, he says.
"The condition is very positional, so standing or sitting a certain way can limit functionality and make you feel miserable," Dr. Lopes says. "It's an extremely difficult diagnosis to make."
Because a CSF leak typically doesn't appear on a conventional MRI scan, neuroradiologist Dr. Barry Rabin used an advanced myelogram technique to gain adequate visualization and pinpoint the source of the leak. Dr. Lopes then followed up with an angiogram procedure where a catheter is inserted into an artery or vein in the leg and, using a state-of-the-art biplane imaging system, was able to embolize the fistula.
This technique is the first procedure of its kind in the Chicagoland region for this particular problem, Dr. Lopes says. It offers a less invasive alternative to open-back surgery, reducing the risk of complications and leading to a faster recovery time.
Within three days of the procedure, Urban was back on her feet, and her headaches had disappeared.
"The CSF leak was very disruptive to my life," Urban says. "I didn't realize how tired it was making me, how different my life looked compared to before. The last few months, I have much more energy and feel great."
While some CSF leaks can occur spontaneously, others are the result of a head or spinal injury, surgery, epidural anesthesia, a spinal tap, a severe cough or strain, Dr. Lopes says.
Weeks before her headaches and other symptoms started, Urban had undergone emergency back surgery for a spinal bone spur that had broken off. Physicians believe the bone spur may have nicked the dural sac, causing the CSF leak.
"Some people deal with CSF leaks for years before determining what's wrong, but Dr. Rabin and Dr. Lopes were relentless. They were champions," Urban says. "Through the whole process, they kept reassuring me, 'We can do this. We're going to find the problem and fix it.' And they did."
Are you having back or neck problems? Take a free online quiz here to learn more.
Related Posts
Comments
About the Author
Lauren Rohr is a public affairs coordinator with Advocate Health Care and Aurora Health Care. She studied journalism at the University of Illinois at Urbana-Champaign and spent the last several years working as a news reporter covering public health, local government, politics, education and all facets of life in the Chicago suburbs. In her free time, she enjoys reading, baking, staying active and cheering on her favorite sports teams, especially the Chicago Blackhawks and the Fighting Illini.