4 questions you may be too embarrassed to ask your doctor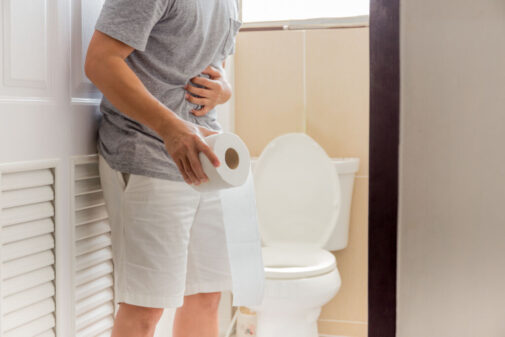 Do you have a hard time discussing and asking questions about your colorectal health with your doctor?
"It's normal for patients to be embarrassed to talk about their bowel regimen or movements," says Dr. Ravi Prakash, a gastroenterologist with Advocate Medical Group in Aurora, Ill. "But having these conversations with both your clinician and even family members can help in early diagnosis."
Dr. Prakash answers four questions you may feel too uncomfortable to ask your doctor.
How often should you have a bowel movement?
"It's normal to have bowel movements anywhere from 2-3 times a day to a few times a week. What we need to be conscious of is any changes in the frequency of bowel movements, as this can be a sign of an underlying issue. I talk with my patients about developing a bowel regimen and training their body to have a bowel movement at the same time of day."
What if your stool is a different color than it normally is?
"Stool color is generally brown due to the bile secreted by the liver. Changes in stool color rarely indicate serious intestinal problems. It's usually reflective of what you eat. However, black or maroon-colored stools may indicate internal bleeding. It's important to be cognizant of changes in the color of your stools and address that with your primary care physician or gastroenterologist."
You think you may have lactose intolerance, IBD or another GI condition. What signs should you watch out for?
"When patients develop new abdominal pain or bloating that persists, indigestion symptoms, changes in bowel habits, stool color, blood in their stool or weight loss, they should see a gastroenterologist. There are multiple other serious symptoms, but these are generally ignored. Patients may need to be investigated with a colonoscopy. Due to a rise in colon cancer rates among people under 50 years old, the United States Preventive Services Task Force has reduced the age of screening to 45 years. Colonoscopy prevents and aids early detection of colon cancer."
What can you expect to experience the day before a colonoscopy?
"Patients are recommended to follow a light, clear liquid diet for the day. They should take their regular medications but should speak with their doctor ahead of time if they take diabetes medication or blood thinners. This is because modifications may be necessary since these medications can have implications on the procedure. You should begin colon preparation with prescribed medication later in the afternoon the day before the procedure. You can even go to work that day as long as you start your preparation later in the afternoon. Review the instructions provided to you at least a week before the procedure so you have enough time to discuss any questions with your provider."
Related Posts
Comments
About the Author
Holly Brenza, health enews contributor, is a public affairs coordinator on the content team at Advocate Health Care and Aurora Health Care. She is a graduate of the University of Illinois at Chicago. In her free time, Holly enjoys reading, watching the White Sox and Blackhawks, playing with her dog, Bear and running her cats' Instagram account, @strangefurthings.