Brewing up health benefits with decaf coffee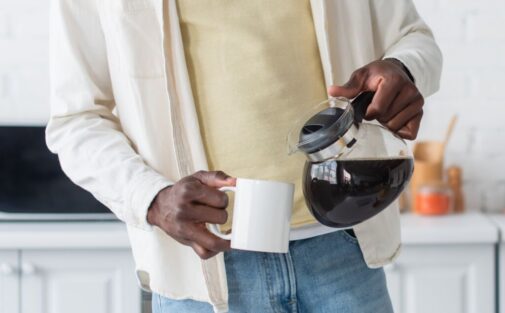 It's the first thing you think about when you get up in the morning: caffeine. While most people can safely consume up to 300 to 400 mg of caffeine a day (equivalent to 24 to 32 ounces of regular coffee), it is still a drug that can have negative side effects on the body.
So, what exactly is caffeine?
"Caffeine is a bitter substance naturally found in over 60 plants, including coffee beans," says Heather Klug, a registered dietitian at Aurora St. Luke's Medical Center in Milwaukee, Wis. "Even though it's a natural substance, it's important to think of it as a drug due to the side effects it has on the body."
Caffeine stimulates the nervous system, making you feel more awake, alert and energized. It can also increase heart rate and blood pressure. Caffeine can also act as a mild diuretic, stimulating the bladder to urinate more.
However, caffeine can also have negative side effects including feeling shaky or dizzy, dehydration, headaches and difficulty sleeping.
Everyone is different in how caffeine affects them. If you experience the above problems, you may want to consider consuming either less caffeine or switching to decaffeinated products such as decaf coffee.
The decaffeination process removes 97% of the caffeine, leaving very small amounts – roughly 2 mg of caffeine per cup.
Caffeine is removed from coffee beans by being soaked in water, a chemical solvent, or by using a liquid carbon dioxide and water mixture. "The decaffeinated beans are then washed, steamed, and roasted, which removes any liquid used to decaffeinate," says Klug.
Not only is coffee one of the most consumed beverages on the planet, but it's also the largest source of antioxidants in the U.S. diet for adults.
Coffee has numerous health benefits including potassium, magnesium and some B vitamins. Decaf coffee contains a similar number of antioxidants, vitamins and minerals as regular coffee.
Klug notes that it's important to drink both regular and decaf coffee in moderation.
"These health benefits diminish when you drink fancy coffee drinks with a lot of creamer and sugar," says Klug. "Regardless of whether you drink regular or decaf, stick to 2 to 4 (8-ounce) cups per day and limit the amount of added sugar and creamer."
Are you trying to watch your weight? Take a free online quiz to learn more about your healthy weight range.
Related Posts
Comments
About the Author
health enews staff is a group of experienced writers from our Advocate Health Care and Aurora Health Care sites, which also includes freelance or intern writers.