Why do babies put everything in their mouth?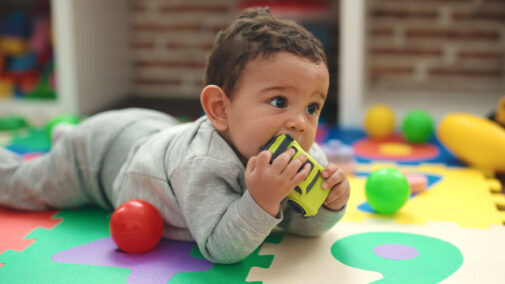 Witnessing your child's growth and development is an exciting and rewarding part of parenting. But one way babies and young children learn about the world around them can be extremely stressful for parents — putting things they touch in their mouths.
"Babies usually figure out how to bring their hands to their mouth by 3-5 months, and by 6 months, they are often putting anything they can get their hands on into their mouths," says Dr. Carrie Ricci, a pediatrician with Aurora Children's Health in Green Bay, Wis. "By 12 months old, this mouthing behavior typically decreases, but any child under the age of 4 is at risk of inserting objects in their ear, nose and throat. Toddlers love to explore and experiment, so they may put things in their ears, nose or mouth out of curiosity, boredom or because they are copying others."
What are some of the most common items Dr. Ricci has seen children put in their ears, nose and mouth?
"Food, pieces of toys, crayons, clay, rocks, beads and coins," she says. "Many parents recognize that coins, magnets and small batteries are dangerous, but it's important to remember some foods are also choking hazards. Grapes, hot dogs, nuts and popcorn can all be dangerous for little ones."
So what can you do to help keep your baby or child safe? Dr. Ricci offers the following tips:
As soon as your baby starts to put objects in his/her mouth, parents, family members and caregivers need to be extremely mindful about choking hazards. Small objects or choking hazards need to be picked up and kept out of reach of children.
Teething toys are a great way for your baby to safely satisfy their oral health needs.
Research the appropriate way to offer certain foods that are considered choking hazards, such as quartering grapes, and be sure when your child is eating, they are seated and paying attention to what they are doing.
Are you trying to find a pediatrician? Look here if you live in Illinois. Look here if you live in Wisconsin.
Related Posts
Comments
About the Author
Holly Brenza, health enews contributor, is a public affairs coordinator on the content team at Advocate Health Care and Aurora Health Care. She is a graduate of the University of Illinois at Chicago. In her free time, Holly enjoys reading, watching the White Sox and Blackhawks, playing with her dog, Bear and running her cats' Instagram account, @strangefurthings.