The times of day you really shouldn't check your phone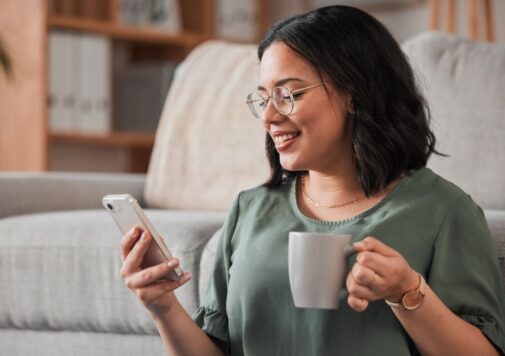 In our constantly connected world, we're always logged on and tuned in.
But where do we draw the line on pulling out that handheld attention grabber? Before hurting your health and relationships, know the settings and times it's detrimental to be scrolling through feeds.
On average, people check their phones around 352 times per day, according to research conducted by global tech care company Asurion.
Dr. Emelie Ilarde, a family medicine physician at Advocate Christ Medical Center in Oak Lawn, Ill., says that people are so reliant on their cellphones, they may even have anxiety without them.
"People who have addictive personalities are more prone to abusing phone usage," she says.
Dr. Ilarde recommends setting limits on phone usage and making time for other activities to help prevent addition. "It will also boost health, allow for better sleep and promote healthy relationships," she says.
Avoid checking your phone at these times for mental, social and physical health:
Before bed. Cellphones, and most technology, emit a blue wave frequency. This alters or suppresses the production of melatonin in the brain, which controls your sleeping cycle. Stop working your brain for at least 30 minutes before going to sleep by putting the phone down. Pre-bedtime environment is important.
Right when you wake up. Many of us are reaching for our phones the second our eyes are opening for the day, so it's not surprising that many Americans are checking their phones within the first few minutes of being awake. Avoid starting your day on a sour note and hold off on the immediate phone usage.
During the night. It may be enticing to update yourself if you wake up throughout the night, but you are making it harder to fall back asleep by using your brain.
Before work. We all want to get the last minutes of use before settling in for the day, but this could prevent us from being on time and ready to go for the day.
When you are in work mode. It's a struggle to get into the zone as is, especially adding in a distraction like checking your phone.
When you are off the clock. Emails and texts from work may always be in the back of our mind, but take a break and relax. Piling up work stress is not good for mental health.
During a meeting, conference call or networking event. It's not professional and often perceived as rude, which in turn, can affect your relationships or potential opportunities.
Do you have trouble sleeping? Learn more about sleep apnea by taking a free online quiz. 
Related Posts
Comments
About the Author
health enews staff is a group of experienced writers from our Advocate Health Care and Aurora Health Care sites, which also includes freelance or intern writers.