What's the difference between Td and Tdap vaccines?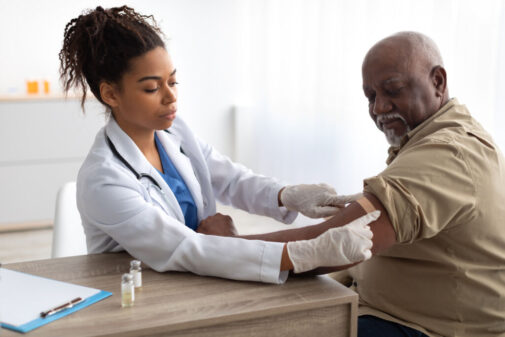 Tetanus, diphtheria and pertussis are potentially deadly bacterial diseases. To continue the protection provided by childhood vaccination, boosters for tetanus have long been recommended for adults every 10 years. 
Dr. Noah Gregory King, a pediatrician in Aurora, Ill. explains that there are two vaccines commonly given to adults as tetanus boosters – Td and Tdap. The Td vaccine has been used as a booster for adults for a long time and it protects against tetanus and diphtheria.  
The other vaccine for adults – Tdap – has been used since 2005. It's the first vaccine for adults and adolescents that adds protection against pertussis as well as tetanus and diphtheria. "Tdap was developed because pertussis outbreaks had been increasing," says Dr. King. "We have found pertussis rates increasing due to decreasing immunity over time." 
Pertussis is extremely dangerous for infants, young children, those 60 years or older, and individuals with chronic lung diseases such as asthma or COPD. 
People who may need a Tdap booster shot
include:
Adults who are pregnant or may become pregnant.

 

Relatives, friends or other caregivers who have close contact with babies younger than 12 months

old

.

 

Health care workers who have direct patient contact.

 

Adults who have never received Tdap vaccine.

 

Anyone with a severe burn or wound who has not had Tdap previously.

 

People who travel

to countries where pertussis is common

.

 
Dr. King adds, "After some serious wounds or burns you may receive a tetanus booster even if it has been fewer than 10 years since your last tetanus shot. Both Td and Tdap give a full-strength tetanus dose." 
Children get five sequential doses of the DTaP vaccine to protect them from tetanus, diphtheria and pertussis, followed by Tdap at age 11. 
Where to get tetanus, diphtheria and pertussis booster shots
Your primary care doctor may have Td and Tdap vaccines available in their office or may give you a referral to a place where you can get the vaccine you need. The booster shots may also be available at: 
Community health clinics

 

Public health departments

 

Pharmacies

 
Contact your state health department for more information about their availability near you. 
All the vaccines for tetanus, diphtheria and pertussis are reliable and have been used safely for years. There are risks associated with these vaccines. But these risks are much less serious than the risks associated with getting tetanus, diphtheria or pertussis. Talk to your doctor to learn more about these vaccines and whether they are the right choice for you. 
Are you trying to find a doctor? Look here if you live in Illinois. Look here if you live in Wisconsin. 
Related Posts
Comments
About the Author
Jo Linsley, a health enews contributor, is a freelance copywriter at Advocate Health Care and Aurora Health Care. With decades of experience in writing and editing, she continues to aspire to concise and inspiring writing. She also enjoys knitting and singing as creative outlets and for their meditative qualities.