Fall into a new exercise routine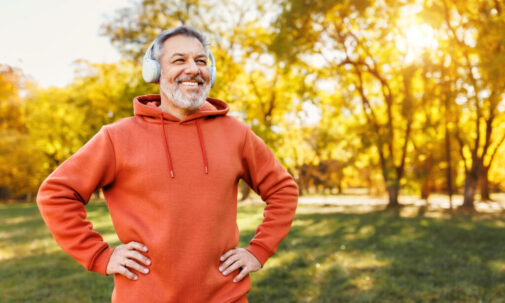 With the new season, new routines are established as families go back to work or school, and the flurry of summer activities have come to an end. This makes the start of fall a good time to start a new exercise regimen. Afterall, it's not too late to reach your 2023 goals.
Jayne Capriotti, cardiopulmonary rehabilitation exercise physiologist at Aurora Health Care, gives these tips on how to get started:
Set goals
Per the American Heart Association, people should aim for at least 150 minutes per week of moderate-intensity activity or 75 minutes per week of vigorous aerobic activity, along with muscle-strengthening activities two or more days each week.
Break it down
Find an exercise program that works for you. The recommended amount of physical activity per week may seem daunting; that's why it helps to break your workout into smaller chunks of time to fit your weekly schedule.
If you can take a brisk 30-minute walk at least five days each week, you will have met your targeted amount of physical activity. But sometimes Capriotti's patients find it hard to dedicate an uninterrupted 30+ minutes to aerobic exercise. That's why she recommends breaking down the chunks of time even further to make it even more manageable. If you can take a 10-minute walk three times per day, or a 15-minute walk two times per day, you still get to that benchmark of 30 minutes per day.
Blend different types of exercise
Both aerobic and isometric exercise benefit your health, especially your heart. When you add strength-building or isometric activities to your exercise routine, you help optimize the results.
Some examples of isometric exercises that can be worked into breaks in your day include floor planks, lunge holds or wall sits. Yoga can be a great source of isometric exercise because of the practice of holding poses accompanied by disciplined breathing. That's why yoga is a great compliment to an aerobic exercise regime. If you can't make it to an in-person class, there are many online sources you can stream at home.
Keep it simple
Ultimately, exercise doesn't have to be anything fancy or require any special or expensive equipment. Some movement is better than nothing. And it doesn't matter how slow you go as long as you keep going.
Want to learn more about your risk for heart disease? Take a free online quiz to learn more. 
Related Posts
Comments
About the Author
Annette Guye-Kordus is a public affairs coordinator with Advocate Health Care and Aurora Health Care.