How to be active at park playdates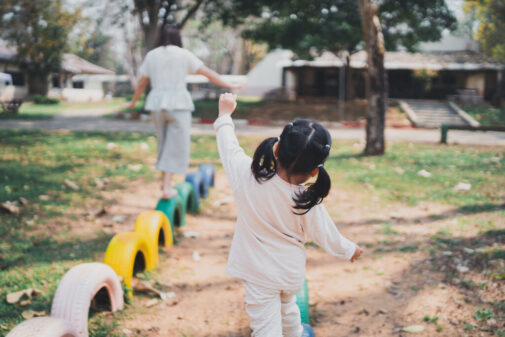 Between work, school and all the other little obligations that make up a family's life, finding time for self-care can be challenging to say the least. If regularly exercising tends to fall toward the bottom of your to-do list, consider getting off the bench and joining your kids in the fun at their next park playdate.
"The park is full of potential opportunities for parents to sneak in a quick workout while their children are playing," says Dr. Jennette Berry, a family medicine physician at Advocate Health Care.
Many pieces of playground equipment can easily fill in for the resources you'll find at the gym including:
Monkey bars for pull ups
Park bench for tricep dips and planks
Swings for split squats
Stairs in lieu of walking on the elliptical machine
Running around with your kids playing tag might not be the same as your daily jog, but exercising in 15-minute intervals can add up throughout the day.
As a bonus, these active family park playdates could set the foundation for children leading healthier lifestyles when they become adults.
"Actively playing with your children offers a fun bonding experience and gives you an opportunity to demonstrate the importance of exercising as a way of taking care of our bodies," Dr. Berry says.
Here are some ways to add active fun for the whole family during your next park playdate:
Ride your bikes over to the park instead of driving
Go to a park with a trail for a family nature hike
Practice yoga and do tree poses next to the trees
Bring equipment to enjoy at the park amenities such as a basketball, volleyball and tennis racket
The fun doesn't need to stop during colder weather months. In the winter, your family can:
Bring supplies to build and decorate a snowman
Make snow angels
Try cross country skiing or snowshoeing
Go ice skating
Are you trying to find a doctor? Look here if you live in Illinois. Look here if you live in Wisconsin.
Related Posts
Comments
About the Author
Vicki Martinka Petersen, health enews contributor, is a digital copywriter on the content team at Advocate Health Care and Aurora Health Care. A former newspaper reporter, she's worked in health care communications for the last decade. In her spare time, Vicki enjoys tackling her to be read pile, trying new recipes, meditating, and planning fun activities to do in the Chicago area with her husband and son.