Advocate breast surgeon unfurls 'bear down' flag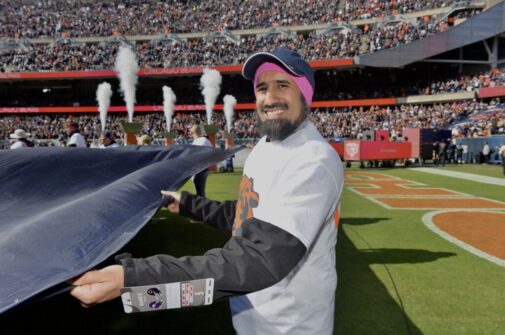 Dr. Ameer Gomberawalla, a breast surgical oncologist with Advocate Health Care, was the Chicago Bears' special guest during the "Bear Down" flag ceremony on October 15. The honor was part of the Crucial Catch/Breast Cancer Awareness celebration where several Advocate breast cancer survivors and their clinicians are honored during the game.
Born in New York City and a former high school football player in Texas, Dr. Gomberawalla now resides in Palos Park and has been a breast surgeon with Advocate for the past eight years. He serves as the medical director for breast oncology and is the medical director for informatics in surgery.
It was a day he will never forget, mainly because of the message it sends about encouraging early detection while honoring those who are fighting and the memory of those who were lost to this disease.
"This day is so meaningful for both our patients and our organization," he says. "I have been fortunate enough to be part of this celebration since 2018 where I came to my first game of this nature. It is such a tremendous opportunity to get to celebrate our survivors and have them receive this chance to be celebrated by their family, this city, Advocate and the Bears organization."
His desire to help those with health risks made him realize at the age of 15 that he wanted to enter the medical field and become a physician. During his rotations in medical school, while realizing his keen interest in cancer prevention and early detection, he found his calling by falling in love with the field of surgical oncology and specifically breast surgery.
"A breast surgeon is able to take a disease from screening and prevention, through treatment and survivorship, and have a long-term relationship with the patients," he says. "Additionally, with breast cancer being so common, I'm able to help a large group of people overcome a disease that is surrounded with so much fear. It is so rewarding to go from the chaos surrounding the diagnosis of breast cancer, and then taking that chaos and transforming it into an experience where the patient feels empowered, does well, and is thriving in their future."
Dr. Gomberawalla also oversees Advocate's high risk breast cancer clinics.
"One of our best methods of having great outcomes is by catching it before you feel anything through that 'crucial catch'. High risk breast clinics calculate an individual's risk of getting breast cancer and counsel them on how they can help reduce this risk."
Want to learn more about your risk for breast cancer? Take a free online quiz here. 
Related Posts
Comments
About the Author
Adam Widman, health enews contributor, is a public affairs manager with Advocate Health Care and Aurora Health Care.