What does a breast lump feel like?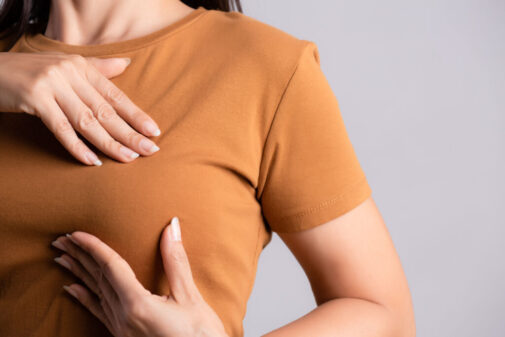 With breast cancer accounting for about one in three of all new cancer diagnoses annually in females, according to the American Cancer Society, most people will likely be affected by breast cancer in some way.
Regular mammograms and breast exams can help identify breast cancer early when it's often more treatable. "Having regular breast exams makes it easier to recognize when something doesn't feel right and there may be a lump," says Dr. Rachel Fournogerakis, an obstetrician gynecologist at Aurora Health Care.
Size and shape of breast lumps can vary, but Dr. Fournogerakis explains it can typically feel like:
A firm lump in one or both breasts that feels different than the surrounding breast tissue
A round or abnormally shaped lump
A new lump or thick tissue that was not present previously
A movable lump under the skin that can potentially be uncomfortable or painful
If a breast lump is found, you should be examined by your primary care provider. However, it doesn't necessarily mean the lump is breast cancer. A variety of different health concerns can be the cause of a suspicious lump such as a benign or noncancerous tumor, mastitis, breast cyst, or an infection.
A common misconception is that mammogram screenings and breast exams are the same. A mammogram is imaging technology used to spot cancer before you may be able to feel a breast lump. Breast exams, both with your primary care provider and self-exams, check for abnormalities or lumps. While there are differences between the exams, they all play critical pieces to breast cancer detection.
If you notice any symptoms such as a breast lump or change in skin texture, nipple discharge, or a change in breast or nipple appearance and texture, contact your primary care provider.
Want to learn more about your risk for breast cancer? Take a free online quiz here.
Related Posts
Comments
About the Author
Hannah Koerner is a Public Affairs Specialist with Advocate Health Care and Aurora Health Care. She received her Bachelor of Arts in Communication from the University of Wisconsin – Green Bay. In her free time, she enjoys biking, snowshoeing, and cheering on Wisconsin sports teams.