The secrets to making a healthy soup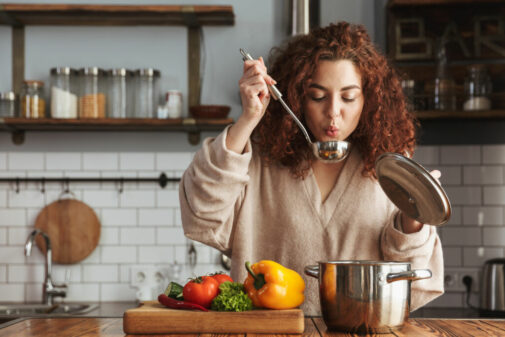 It's cold outside. Turning to the comfort of a hearty, hot bowl of soup may be just what the doctor ordered.
Dr. Stephanie Maves, a family medicine physician at Aurora Health Care, explains the health benefits of eating soup:
Delivers comfort and flavor while often being lower in fat and calories compared to other food.
Packs a high nutritional value by providing vitamins, minerals, collagen, fiber and more.
Offers a great way to eat more vegetables. Eating more vegetables is known to help reduce the risk of heart disease, stroke, cancer and respiratory disease.
Makes you feel full longer and may help you manage your weight.
Helps you stay hydrated, especially broth-based soups, which may also help relieve nasal congestion.
But not all soups are healthy. Instant and canned soups are often loaded with sodium. And heavy, cream-based soups are often made with thickening agents like heavy cream, butter and flour that can tack on calories and fat.
"It's perfectly fine to have a creamy soup – or even canned – once in a while," Dr. Maves says. "But most of the time, watch labels and try to choose lighter, broth-based versions, especially if you eat a lot of soup."
Dr. Maves offers five tips to keep your soup healthy:
Make your own soup at home, so you can select and control the ingredients. It's an easy way to use up leftovers, and can be made with just about anything you have in your fridge and pantry.
Choose soup recipes that are broth-based over thick, creamy versions.
Use fresh ingredients and consider adding beans since they are a great source of protein and fiber.
Instead of salt, add spices and other tasty ingredients like garlic, onion, parsley, basil or cayenne pepper.
Thicken soups with yogurt, mashed potatoes, beans, chickpeas or lentils. These healthy alternatives will bump up your soup's nutritional value even more.
"Chicken noodle, tomato and bone broth vegetable soups are good choices for cold weather go-to's," Dr. Maves says.
Are you trying to watch your weight? Take a free online quiz to learn more about your healthy weight range. 
Related Posts
Comments
About the Author
Mary Arens, health enews contributor, is a senior content specialist at Advocate Health Care and Aurora Health Care. She has 20+ years of experience in communications plus a degree in microbiology. Outside of work, Mary makes healthy happen with hiking, yoga, gardening and walks with her dog, Chester.