Articles by "Alix McNulty"
Alix McNulty has been a nurse since 2005, working in neonatal intensive care, pediatric intensive care and emergency services. In her role today, Alix is responsible for educating and providing programming on injury prevention—any issue that could bring a child to the emergency room (poisoning, drowning, vehicle safety, etc.). Alix spends time in schools, daycare centers, libraries, and a variety of other organizations focusing on childhood safety. Alix is a certified child passenger safety technician and has implemented a car seat program at Advocate Children's Hospital.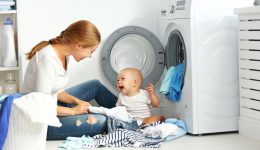 An expert warns of a potentially unknown hazard lurking in your laundry room.