It may be convenient, but it could harm your child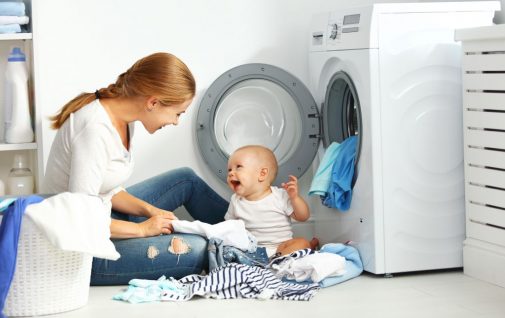 It is all about simple these days. But in the case of laundry detergent pods, simplicity can come with a cost.
The pods were created to make laundry just a little more convenient. Throwing one in a load of laundry is effortless. Gone are the days of pre-measuring the soap, or worrying about the detergent spilling all over as you pour it into the washer. Popping in a pre-filled, perfectly-measured laundry pod is a wonderful solution.
But experts warn those pods are dangerous for small children. Too often, kids are biting into them or squeezing them so hard they explode in their faces. According to Poison Control Centers and emergency rooms, they are getting calls or seeing children who have ingested the contents of a laundry pod or have suffered face and eye burns when the super concentrated detergent squirts into their face.
These pods are squishy, colorful, and certainly attract the attention of small children who use their senses like taste and touch to explore new things. What teething child wouldn't love to sink their sore gums into a colorful, gummy, easy-to-hold in their hand packet? In fact, some laundry pods resemble teething toys with the bright two-toned colors.
Unfortunately, these laundry pods have a highly concentrated formula (which is why they are so small). The most common symptoms of laundry pod ingestion include: vomiting, mouth or throat irritation and coughing. There have even been some cases of children developing serious symptoms such as drowsiness, a coma and respiratory difficulty.
Just like it is important to lock up the medicine cabinet or keep the cleaning supplies out of reach of children, it is also important to consider laundry room safety.
SAFETY TIPS:
Keep all detergents out of reach of children
Make sure all containers housing the pods/detergent are closed tightly
Clean up any spills immediately
Should exposure occur, please call a Poison Control Center immediately.
Related Posts
Comments
About the Author
Alix McNulty has been a nurse since 2005, working in neonatal intensive care, pediatric intensive care and emergency services. In her role today, Alix is responsible for educating and providing programming on injury prevention—any issue that could bring a child to the emergency room (poisoning, drowning, vehicle safety, etc.). Alix spends time in schools, daycare centers, libraries, and a variety of other organizations focusing on childhood safety. Alix is a certified child passenger safety technician and has implemented a car seat program at Advocate Children's Hospital.