Articles by "Clay Garner"
Clay Garner grew up in Akron, Ohio and earned his BA and MA from the University of Akron. He has lived in Chicago for more than 20 years. In 2016, he contracted Transverse Myelitis. Following his diagnosis he founded the Beat Transverse Myelitis Foundation – www.beat-tm.com - to help those with TM and other related neurological disorders resulting in walking challenges.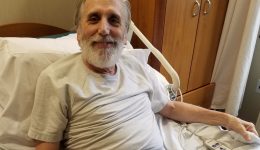 After a call from his physician telling him to get to the hospital as soon as possible, one man is left wondering what is going on with his own body.